In conjunction with the inauguration of President Marjorie Hass and the celebration of 100 Years of Women at Rhodes, artworks by alumnae and faculty and friends of the college have been installed throughout the Catherine Burrow Refectory. 
Grace Porter and McKenzie Drake
Boundearthless by McKenzie Drake '17 and Accumulation by Grace Porter '14 are separate and individual works of art, yet they are united not only in similar size and pallet, but the artful friendship created between the two artists in the art studios of Clough Hall. While at Rhodes, Grace was a mentor to McKenzie, not only in the grueling studio schedule, but in collaborating in sketchbooks, finding arts opportunities in Memphis, and encouraging each other to continue their dreams of being an artist. Both women are inspiring in the way they embraced the work ethic at the core of a successful studio practice. Having their work on display in the Refectory serves both to beautify a communal space and to remind students that creative accomplishment is well within their means.
McKenzie and Grace's works hang side by side in the Goldman dining hall.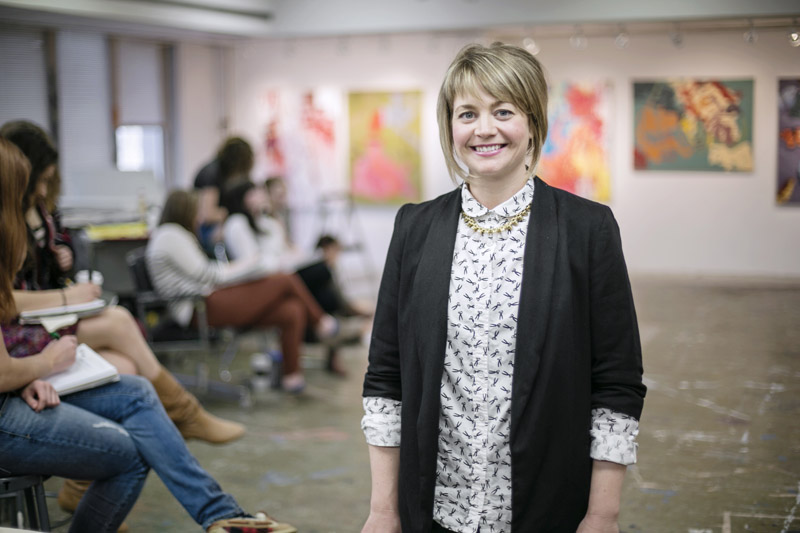 Erin Harmon was raised in the suburbs of southern California where the natural desert is sated by hundreds of miles of aqueducts to produce obsessively groomed lawns. After graduating from San Diego State University with a BA in studio art, she earned her MFA in painting from Rhode Island School of Design. She has been featured in numerous group and solo exhibitions around the country including at Tiger Strikes Asteroid, Los Angeles; Field Projects, New York; the Target Gallery at the Torpedo Art Center, Alexandria, VA; the Atlanta Artists Center & Gallery, GA; and the Memphis Brooks Museum of Art, TN.
Harmon currently lives in the verdant and fecund Tennessee delta, where kudzu and coal sludge can swallow everything in their path. She holds the James F. Ruffin Chair of Art at Rhodes College.
Harmon's works hang in the Wilson Fireside Lounge.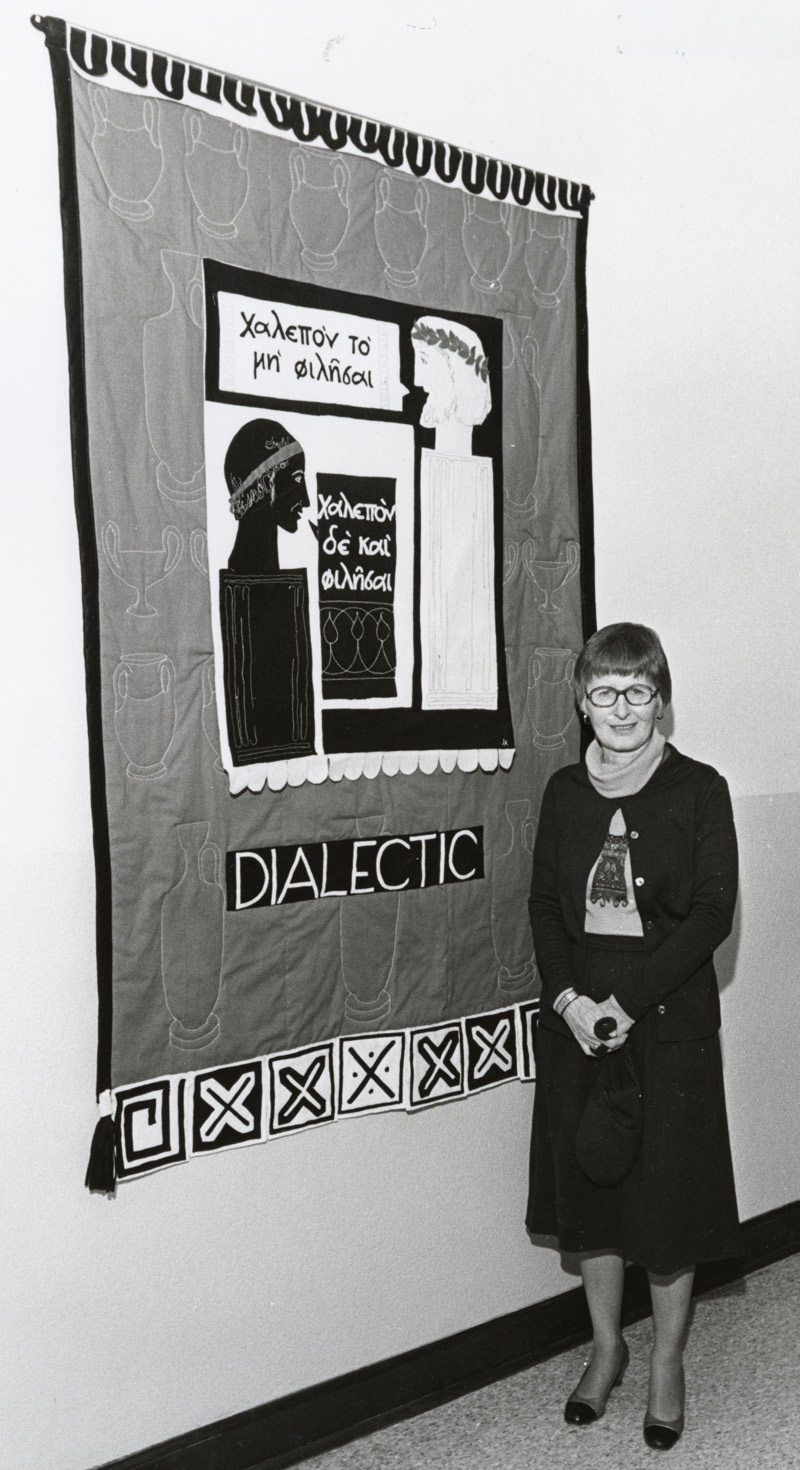 Wall Hangings by Jean Amy
Location: Neely Hall. These fabric constructions represent the seven divisions of knowledge in the medieval world. They are stated in two groups:  the Trivium and the Quadrivium.
(East wall)  The Quadrivium = Astronomy – Geometry – Arithmetic - Music
(West wall) The Trivium = Rhetoric – Dialectic - Grammar 
Jean Amy (wife of Biology Professor Bob Amy) was commissioned by the college to do these pieces in 1976. They were installed on first floor Southwestern Hall in 1978. Later they moved to the Frazier Jelke hallway outside lecture hall FJ-A.
Mrs. Amy was an artist in many media, but she particularly delighted in using found objects in her designs. Here, her skills in needlecraft are on full display with quilting, contrapunto stuffed objects and fragments of old weavings, clothing, and rugs. There is also a really cool old photograph. See if you can spot it!
You can also see these seven images carved in stone over the door of Burrow Hall.
They occur once again on the cloistered walkway of the Barret Library.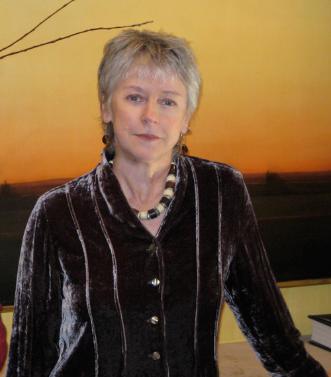 Carol DeForest
Carol DeForest is a graduate of Rhodes, Class of 1971, and of the Memphis College of Art (BFA). She has been a working artist for about 30 years with a ceramic design studio, making one-of-a-kind plates and tiles.
She has also done large scale public art projects for the Dixon Gallery, the UrbanArt Commission of Memphis, and private clients.
She has an interior design business called the Carol DeForest Studio. Here Carol works as an art consultant, most recently for the Overton Park Conservancy and the Henry Turley Co. for the Downtown Memphis Commission, as well as for Overton Square/Loeb Properties.
Her works are hanging in Rollow Hall.
In her main art work, DeForest most often uses found materials, which she then transforms into the expression of a verbal phrase that she is trying to represent. Her works in clay include small abstract dwellings. Her work can be seen in private and public collections throughout the region.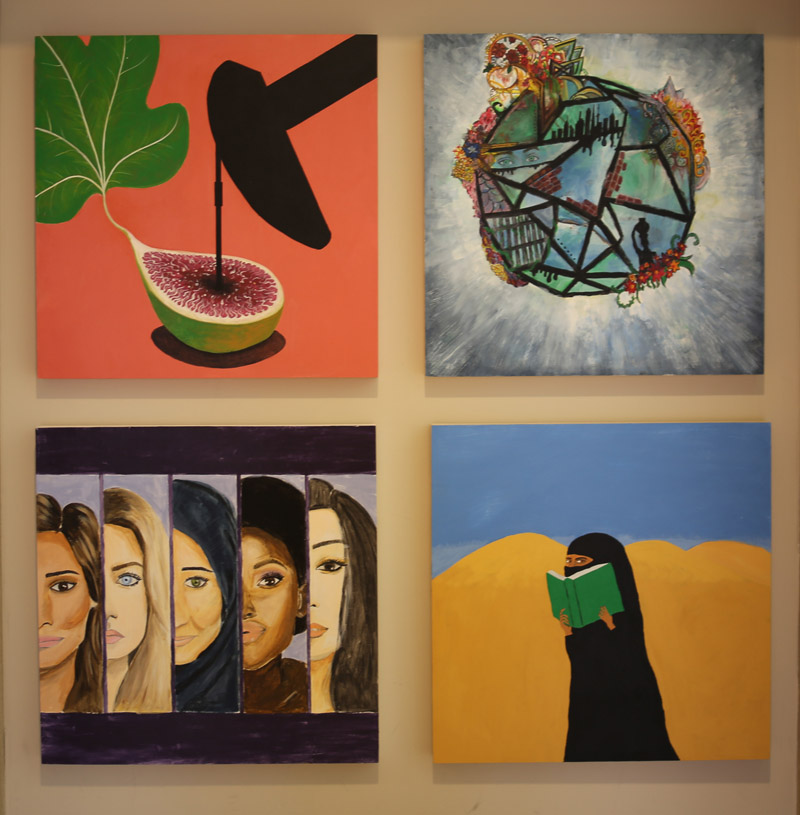 Student work from fall 2017 Introduction to Painting course, hanging in north hallway to servery.
 Artists include (clockwise from top left) Jordan Gaertner '20, Patricia Sculco '21, Jackie Jiang '21, and Madeline Kennell '21; course taught by taught by Assistant Professor Carl E. Moore.