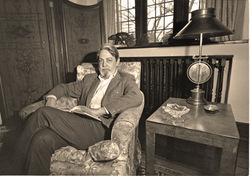 In December, 2010, the College the acquired a collection of personal letters and documents, diaries, manuscripts and the 2000+ book collection from the Estate of Shelby Dade Foote, Jr. (1916-2005), thanks in great part to Steve and Riea Lainoff. It is a treasure trove for southern literary scholars and historians. The Foote diaries begin during his service in the Mississippi National Guard and Marine Corps. Nearly each day for sixty years from the 1940s to 2004, Foote jotted down short notes about what he read and watched on television, the music to which he listened, what he thought about and whom he saw. The first Shelby Foote Fellow, Jordan Redmon, Class of 2013, began scanning and transcribing the diaries in 2012.
Manuscripts constitute another major part of the collection and include everything from his earliest writings (poetry written in high school) through the manuscript and notes for his unfinished novel, Two Gates to the City. Manuscripts of four of his five novels and the last volume of his Civil War trilogy, The Civil War, A Narrative are included, as are the research notes and original maps for The Civil War. Letters make up another important part of the collection. Correspondents include U.S. presidents, governors and senators, Hollywood producers, and other authors including Cormac McCarthy and Eudora Welty. Foote's lifelong friendship with author Walker Percy is recorded in several unpublished letters to and from Percy, while letters and photographs from the Foote family in Mississippi are also included. Finally, Foote's personal interests are evident in his music collection and in videos, audiobooks, and magazines.
The Shelby Foote Collection Finding Aid has been created by Carol McCarley with the assistance of Jordan Redmon, Class of 2013. Ms McCarley, an independent, professional librarian and private library consultant, has worked with several valuable private collections in the Memphis area. She was selected by the Shelby Foote Estate to organize and inventory Foote's papers and memorabilia that were in his home. She spent almost a year organizing the Foote materials and was part of the transition team when the collection was acquired by the College. The Finding Aid provides a Bibliographical Note, a detailed Scope and Content Summary and an Itemized Collection Contents.
There are no access restrictions to the Foote Collection. Researchers are welcome to use the finding aid to identify materials and then to view the materials in the Archives Reading Room during regular Archives hours. Reading Room Policies apply to the use of the collection.
It took the cooperation of many people to make the Shelby Foote Collection accessible for public use.