For more than 30 years, the McCoy Theatre was the production arm of Theatre at Rhodes College.
In addition to staging everything from Shakespeare to Sophocles and Sondheim to Lin-Manuel Miranda, the intimate, black box-style theatre has hosted professional performers from New York, Los Angeles, Chicago, and from as far away as England and India.
Rhodes recognizes art should be accessible to everyone. The McCoy Theatre is now offering all public performances free of admission.
All shows begin at 7:30 p.m., except the 2:00 p.m. Sunday matinees.
McCoy Theatre | Season 40
Allegiance: A Creative Response
DIRECTED BY JAZZY MILLER
Produced by the McCoy Theatre at Rhodes College
A creative collaborative of poets, actors, orators, & music artists
come together to examine & respond to racial injustice in America. Allegiance premiered October 30, 2020, and was followed by a Zoom panel discussion.
McCoy Theatre | Season 39
Fall 2019 - Spring 2020
By Krista Knight and Barry Brinegar | Directed by Dr. Joy Brooke Fairfield
Music direction by Eileen Kuo
November 15, 16, 21, 22, 23 at 7:30pm
November 24 at 2:00pm
A post-punk adaptation of Medusa set in mythical modern Greece. Young snake-haired rocker Medusa is part of a Go-Go's-esque all-Gorgon girl group that's poised to dominate the pop charts. When superfan Poseidon attacks backstage, the gods curse Medusa with the power to turn anyone she looks at into a mindless zombie fan. Is this a price she's willing to pay for fame?
By Dominique Morrisseau | Directed by Dr. Shondrika Moss-Bouldin

February 14, 15, 20, 21 & 22 at 7:30pm
February 23 at 2:00pm

At the start of the Great Recession, one of the last auto stamping plants in Detroit is on shaky ground. Each of the workers have to make choices about how to move forward if their plant goes under. Shanita has to decide how she'll support herself and her unborn child, Faye has to decide how and where she'll live, and Dez has to figure out how to make his ambitious dreams a reality.
QUALITIES OF MERCY: Scenes of Law & Justice on the Shakespearean Stage
April 23, 24 & 25 at 7:30pm
April 26 at 2:00pm

Directed by Carmen-maria Mandley, Dr. Dave Mason, Leslie Reddick, and Lawrence Blackwell
A curated selection of scenes from plays by Shakespeare and other early modern dramatists where the performative power of language determines life or death outcomes. How do legal logics of the Renaissance shape various political stages of today?
These performances will be featured as a complement to the Pearce Shakespeare Symposium on Law and Literature, to be held on the Rhodes College campus April 23-24, 2020, with presentations by Nick Hutchison, Lorna Hutson, and other scholars.
Also This Year at the McCoy
By Robert Askins
October 3, 4 & 5 at 7:30pm
October 6 at 2:00pm
Directed by Juliet Mace
Produced by Rhodes Theatre Guild

Pastor Greg asks widow Margery to run the church's puppet club and teach the younger members of the congregation how to follow the Bible and avoid Satan. Jason, Margery's son and a good Christian boy, is faced with the challenges of keeping up appearances while trying to battle his own demons when his puppet Tyrone takes on a life of its own.
Music and lyrics by Meredith Stepien & Mark Swiderski
Book by Nick Lang, Matt Lang, & Brian Holden
Arrangements by Clark Baxtresser & Pierce Siebers  
March 26, 27 & 28 at 7:30pm
March 29 at 2:00pm
Directed by Tom Day
Produced by Rhodes Theatre Guild
Originally produced by StarKid Productions

At the dawn of humanity, a tribe of cave dwellers survives under the wise leadership of Jemilla, The Peacemaker. However, Zazzalil, one member of the tribe, doesn't quite seem to fit in. She's always inventing things to make life easier . . . for herself. When she stumbles upon the most important discovery in history, it changes the world forever.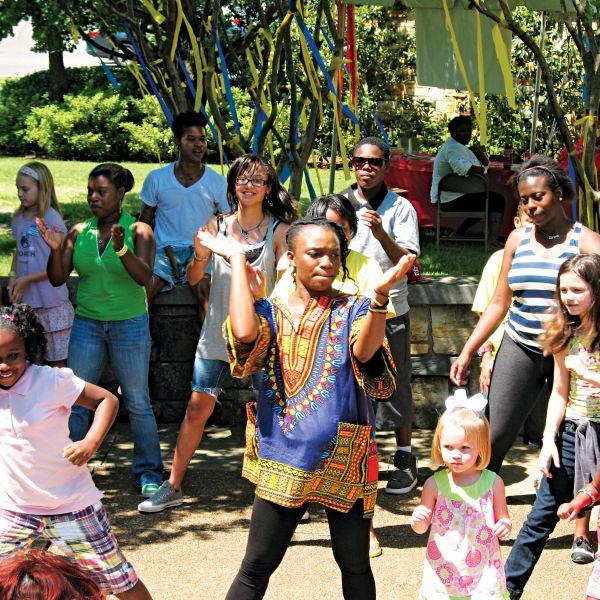 THE 15TH ANNUAL MEMPHIS CHILDREN'S THEATRE FESTIVAL
Produced by Voices of the South
June 5 & 6, 2020

The ultimate family-friendly arts experience awaits you and your loved ones. The pay-what-you-can festival features over a dozen different performances, workshops, and arts activities galore. Bring the whole family for a picnic on the grounds to start things off on Friday, and come back Saturday morning for a full day of events. The full schedule of performances and activities will be available in the spring of 2020 at voicesofthesouth.org.
The Third Annual Memphis FRINGE Festival
Produced by Voices of the South
June 18-28, 2020
Voices of the South began their company 23 years ago by preparing a show to perform for the International Fringe Festival in Scotland. Voices of the South hopes The Memphis FRINGE Festival serves as the same catalyst for performing artists wanting to create and share art with Mid-South audiences. Each show is different and highlights the talent and diversity of the Memphis arts community. Applications for the 2020 FRINGE go on-line January 1, 2020 at voicesofthesouth.org.