The Health Disparities Lab mission is to:
(1) better understand why people engage in self-destructive health-related behaviors (such as suicide, addiction, eating disorders, health risk-taking, and medical non-adherence) and why disparities exist in these areas, with particular groups being more or less effected;
(2) develop prevention and treatment strategies to address these issues that are innovative, evidence-based, and community-informed.
Our work is guided by the values of curiosity, creativity, genuineness, openness, respect, and perseverance. In addition, our work strives to empower and give voice to those who are marginalized and to provide leadership in utilizing rigorous scientific methods to address social justice issues.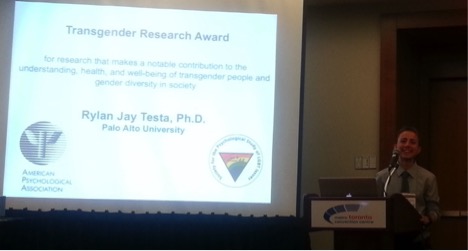 Professor Testa receiving the 2015 Transgender Research Award from the American Psychological Association, Division 44.
Current projects include:
Analysis of Trans Health Study data to examine risk and protective factors for physical and mental health outcomes among transgender and gender nonconforming (TGNC) people
Development and assessment of an online intervention to improve well-being and reduce suicidality among TGNC youth
Collaboration with community partners to develop and evaluate culturally-informed crisis intervention strategies
Learn more about Dr. Testa here.