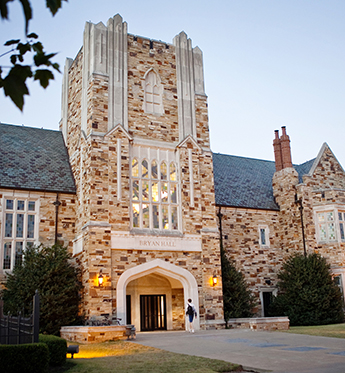 The Bryan Campus Life Center, dedicated January 23, 1997, was given in honor of Catherine Wilkerson Bryan by her four children, John Henry Bryan, Jr., Caroline Bryan Harrell, family of Catherine Bryan Dill, George Wilkerson Bryan and by Bryan Foods of West Point, Mississippi, co-founded by her husband, the late John Henry Bryan, Sr. The Center encompasses a performance gymnasium, a three-court multiuse gymnasium, racquetball and squash courts, a state of the art fitness room, an indoor jogging track and accommodations for student social events, lectures and other campus occasions. Other activity areas include:
The L. Palmer Brown Lynx Lair, a student recreation area housing the snack bar, billiards and other game rooms, TV viewing and lounge areas.

The Brenda and Lester Crain Reception Hall provides elegant accommodations for campus social events and other special occasions.

The Dunavant Tennis Complex, the gift of Dr. Tommie S. and William B. Dunavant, Jr., includes ten lighted courts and stadium seating built to NCAA National tournament standards.

The William Neely Mallory Memorial Gymnasium is the site of Rhodes' intercollegiate athletic events. It was dedicated December 10, 1954, in memory of Major William Neely Mallory, Memphis, who was killed in an airplane crash in Italy on February 19, 1945. Major Mallory became a member of the Board of Directors of Rhodes in 1937, and in 1938 became Treasurer of the College, which office he held at the time of his death.

The McCallum Ballroom is named in honor of Virginia J. and Robert D. McCallum, Chair of Rhodes Board of Trustees from 1969 to 1981.

The Ruth Sherman Hyde Gymnasium, made possible by gifts of the J. R. Hyde family, was dedicated March 17, 1971. It now houses three racquetball courts and an aerobics/dance studio.

Crain Field, home of the Rhodes football and lacrosse teams, was recently renovated with state-of-the-art FieldTurf provided by a gift from Brenda and J. Lester Crain, Jr. '51. The field was dedicated in 2012 in honor of his father, J. Lester Crain, Sr. '29.

Fargason Field, the original athletic playing fields on campus, was the gift to the College of about 15 acres of land owned by Mr. John T. Fargason and his sister Mrs. Mary Fargason Falls. Their generosity and name are now reflected in the collection of fields for varsity sports located to the north of the William Neely Mallory Gymnasium.

Jerden Field for intramurals and club sports is named In honor of Jane and J.L. Jerden '59.

Mason Field for Field Hockey was dedicated in 2013 thanks to the generosity of the Mason family.

Solomon Field which serves as a practice field, was dedicated in 1994 in memory of the winning college football player and all-round outstanding athlete Craig R. Solomon '79.

Stauffer Field, home of Rhodes varsity baseball team, was named in 1977 in honor of Frederic R. Stauffer, professor of physics for 26 years and college baseball coach for 10 years. Renovations completed by the 2009 season gave the College one of the finest baseball facilities in NCAA Division III.

The Winston Wolfe Track and Field Complex was dedicated in 2010 in honor of Winston Wolfe, an entrepreneur, athlete, philanthropist, and loyal friend of Rhodes College.
Bryan Campus Life Center
2000 North Parkway
Memphis, TN 38112
United States