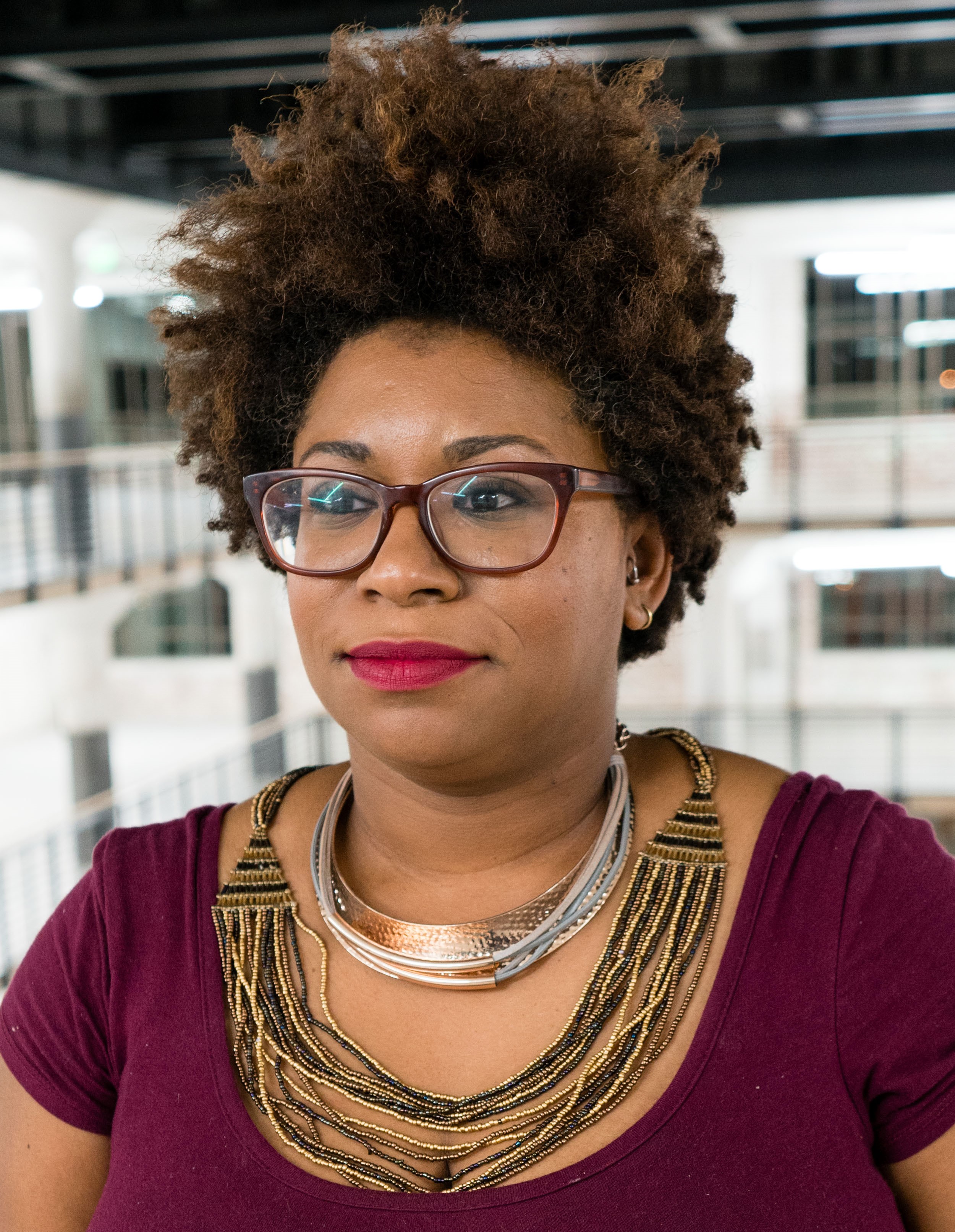 Zandria Robinson
Associate Professor of Sociology *On Leave for the 2018-2019 Academic Year*
I'm a native Memphian, urban sociologist, classically-trained violinist, and writer working across the fields of Africana Studies, cultural studies, and social science. My interdisciplinary approach makes me right at home at Rhodes, where I started my academic career as an Assistant Professor and William Randolph Hearst Dissertation Fellow in the 2008-2009 academic year. Before returning to Rhodes, I worked in the Sociology Department at the University of Memphis (2012-2015) and in the Sociology and Anthropology and Southern Studies Departments at the University of Mississippi (2009-2012). I earned the Bachelor of Arts in Literature and African American Studies in 2003 and the Master of Arts in Sociology in 2005 from the University of Memphis and earned the PhD in Sociology from Northwestern University in 2010.
RESEARCH AND WRITING
My work focuses on inequality; race, class, gender, and sexuality; black feminism; and popular culture and media. My first book, This Ain't Chicago: Race, Class, and Regional Identity in the Post-Soul South (University of North Carolina Press, 2014), focuses on the intersections of race, class, gender, and region in African American identity and won the Eduardo Bonilla-Silva Outstanding Book Award from the Division of Racial and Ethnic Minorities of the Society for the Study of Social Problems. For my second book, I teamed up with my super bestie from graduate school, friend and colleague Marcus Hunter, to write Chocolate Cities: The Black Map of American Life (University of California Press, 2017), a sociocultural look at African American communities across the U.S. from the late nineteenth century to present. My next book project, Soul Power, under contract with my fave University of North Carolina Press, tells the intertwined story of the Memphis soul sound and its Soulsville, USA community, chronicling how battles over ownership of the sound—between neighborhood residents, foundations, non-profit organizations, and gentrifiers—shape ideas about race, place, and neighborhood change.
My writing life out in the world is in the pages of Rolling Stone, where I've written about the broad import of Beyoncé; in Oxford American, where I've written essays on memory and music; in Scalawag, where I wrote on the city of Memphis; and in The Believer Magazine, where I write on mourning and sound.
TEACHING
I gave up a fellowship without teaching responsibilities to teach my first Introductory Sociology course when I was a 22-year-old Master of Arts student at the University of Memphis. I wanted to teach because I wanted to connect people and ideas in the classroom, which I saw and still see as a transformative space. A thousand years later, though my popular culture references as an 80s-born millennial are rapidly becoming passé, I am still committed to the magic of a collaborative, Socratic classroom space that uses popular references and current events to help people see and interrogate their own sets of knowledge. 
Here at Rhodes, I teach courses in black feminist thought, hip-hop, and research methods, always infused with all things popular and ethnographic.
SERVICE
I'm a busy bee in the field and in the Memphis community. In the discipline, I serve as secretary for the Association of Black Sociologists and have been a member of the ABS Executive Committee since 2006. I've served as an Executive Committee Member for the Southern Sociological Society, as an editorial board member for Issues in Race & Society: An Interdisciplinary Global Journal, and as a member of the Strategic Planning Taskforce for Sociologists for Women in Society.
In the community, I have worked with reproductive justice organization SisterReach, the Natural House of Wellness's Plant-Based Food Festival, Stax Museum of American Soul Music, Ballet Memphis' SPARK, OUT Memphis's Multicultural Affairs Committee, and a host of other community organizations doing work at the intersections of race, class, gender, health, education, and justice. With writer friends and fellow native Memphians Jamey Hatley and Molly Rose Quinn, and with the support of a Mellon grant from Rhodes for the 2017-2018 academic year, I founded the Center for Literary Arts, a non-profit focused on telling and preserving the stories of marginalized southerners.
SELECTED PUBLICATIONS
"Sonic Politics and Neighborhood Change in South Memphis." In An Unseen Light: Black Struggles for Freedom in Memphis, Tennessee, edited by Aram Goudsouzian and Charles McKinney, University of Kentucky Press, 2018.
"Intersectionality and Gender Theory." Invited chapter for Handbook of the Sociology of Gender, Second Edition, edited by Barbara Risman, Carissa Froyum, and William J. Scarborough, forthcoming from Springer Press, 2017.
"Listening for the Country." Oxford American, Issue 95, 2016.
"The Sociology of Urban Black America," Marcus Anthony Hunter and Zandria F. Robinson, Annual Review of Sociology 42, 2016.
"Beyoncé's Black Southern Formation," Rolling Stone, February 2016.
 "The IRL Fallacy." Contexts: Understanding People in Their Social Worlds, 2015.
Re-Positioning Race: Prophetic Research in a Post-Racial Obama Age, edited by Sandra L. Barnes, Zandria F. Robinson, and Earl Wright II. SUNY Press, 2014.
Education
B.A., Literature and African American Studies, University of Memphis
M.A., Sociology, University of Memphis
Ph.D., Sociology, Northwestern University