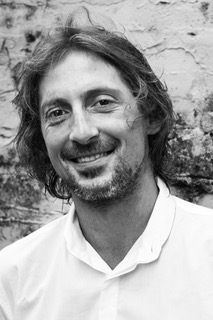 Xosé Pereira Boán
Assistant Professor of Spanish
Prof. Xosé Pereira Boán received his Ph.D. in Contemporary Peninsular Studies — with a concentration in memory, liminality and visual culture, from Tulane University in 2017. His other research areas include depictions of migration in visual culture and media, transnational Netflix productions in the Hispanic world, affect theory, masculinity and violence in both lettered and visual cultures, as well as Galician Studies. He is currently working on his first monograph, Literary Synapses: Memory, Affect and the Graphic Novel in Spain.
Peer-refereed Articles
"De la picaresca a la parresia: desplazamientos éticos en Ay Carmela!" (Forthcoming with Romance Studies).
"Memoria paria y reterritorialización gráfica en Los surcos del azar de Paco Roca." Transitions: Journal of Franco-Iberian Studies 12 (2018): 57-85. 
"Liminaridad y mímesis monstruosa en La lengua de las mariposas y Pa negre." Revista de Estudios Hispánicos 52. 2 (2018): 639-666.
 "La revisión narrativa del coraje en El informe de Brodie". Variaciones Borges 41 (2016): 129-40.
"Violencia mítico-divina en La vorágine: sociedad, naturaleza y autor". Ixquic -Revista Hispánica Internacional de Análisis Literario y Cultural — University of Adelaide 11 (2015): 121-37.
"La soledad del manager. Manifiesto fundacional del desencanto en la serie Carvalho. De la lucha ideológica a la lucha de clases: transición y desaparición." Céfiro 9.1 & 9.2. (2009): 166-80.
Selected Presentations
"Migración e interseccionalidad en Retorno a Hansala." Gender and Decolonization in the Iberian World, Florida Atlantic University (Boca Raton, FL) November 16th 2018.
"New Galician Cinema's Back to the Future. The Experimental Tradition of a Transnational Identity." III North American Symposium of Galician Studies, Regis University (Denver, CO) October 19th 2018.
"Franko-Spain's Creations: The Monster-Child in Peninsular Film." The Monster as a Metaphor, Mississippi State University (Mississippi State, MS) September 22nd 2018.
"Chile-USA. Encrucijadas liminoides en dos filmes de Pablo Larraín: Tony Manero y No" LASA 2016 (New York City, NY) May 29th, 2016.
 "Coming of Age at War in Teixidor's Pa negre (Black Bread) and Rivas' "A lingua das bolboretas" ('Butterfly's Tongue'): A Liminal Approach." Literature and Crisis, Florida International University (Miami, FLA) April 10th 2015.
"Cabeza de Vaca's Naufragios: The Purpose of 'Getting There'" XXIX Biennial Louisiana Conference on Hispanic Languages and Literatures. Lousiana State University (Baton Rouge, LA) March 1st 2014.
"Vigo: periferia gamberra" Movida y Transición española desde cuatro puntos de vista geográficos. University of Zadar (Zadar, Croatia) November 22nd 2010.
Courses taught / in Progress
Memory and the Graphic Novel in Spain (Spring 19)
"Vientos de agua": Spain's Migrants in Visual Culture (Fall 18)
The Spanish Civil War in Film
Galician Literature: The "Nós" Generation
Education
PhD — Contemporary Peninsular Studies, Tulane University
MA — Early-Modern Hispanic Literature, University of Colorado at Boulder
BA — Translation Studies, University of Vigo