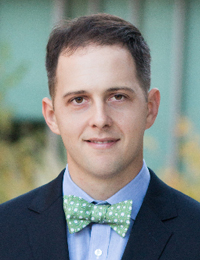 Michael Flexsenhar III
Visiting Assistant Professor of Religious Studies
Dr. Flexsenhar received his Ph.D. in Ancient Mediterranean Religion from the University of Texas at Austin, a M.T.S. from Vanderbilt Divinity School, and a B.A. in Religious Studies and Greek and Roman Studies from Rhodes College. He publishes on a range of topics including Paul's letters, ancient slavery, women and family in early Christianity, and archaeology in early Christian contexts. From 2009 to 2016 he was an archaeological excavator of the Late Antique Jewish synagogue in ancient Rome's port city, Ostia Antica. His forthcoming book, Christians in Caesar's Household (Penn St. University Press, 2019), examines the role of the Roman emperors' slaves in the development of early Christianity.
Dr. Flexsenhar teaches courses in Rhodes' Foundations Program in the Humanities, both "Search" and "Life." He also teaches courses on Gender and Sexuality in Early Christianity, Apocryphal Christian Literature, and First-Year Writing Seminar. His teaching focuses on bringing the past to life by connecting course content with universal human experiences, by recovering lost voices, and by cultivating an appreciation for diverse perspectives.
A seventh-generation Tennessean, and a native Memphian, Dr. Flexsenhar lives in Memphis with his wife and two young children.
 
Selected Publications
 
Books
2019    Christians in Caesar's Household: The Emperors' Slaves in the Makings of Christianity.
Inventing Christianity Series. The Pennsylvania State University Press.
Journal Articles
2018 "Sought out for Luxury, Castrated for Lust: Mistress-Slave Sex in Tertullian's Ad Uxorem 2.8.4." Vigiliae Christianae 72.5: 484-505.
2016    "Marcia, Commodus' 'Christian' Concubine and CIL X 5918." Tyche: Beiträge zur Alten Geschichte, Papyrologie und Epigraphik 31: 135-147.
2015    "Recovering Paul's Hypothetical Slaves: Rhetoric and Reality in 1 Corinthians 7:21." Journal for the Study of Paul and His Letters 5.1: 71-88.
Other Publications
2018    "Ostia." The Oxford Encyclopedia of the Bible and Archaeology. Oxford Biblical Studies Online.
 
Education
Ph.D. The University of Texas at Austin
M.T.S. Vanderbilt Divinity School
B.A. Rhodes College