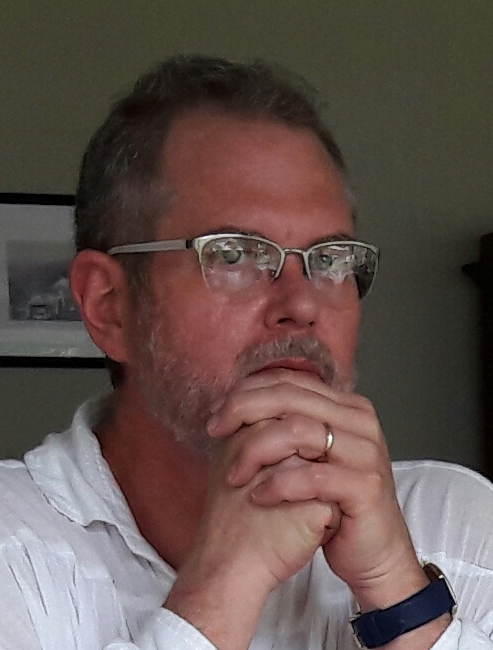 Mark W. Muesse
Associate Professor of Religious Studies
Mark W. Muesse was born in Waco, Texas in 1957 and attended Baylor University, where he received a B.A., summa cum laude, in English Literature (1979). He also attended Harvard University, where he earned a Masters of Theological Studies (1981), a Masters of Arts (1983), and a Ph.D. in The Study of Religion (1987).  At Harvard, his principal teachers were Gordon D. Kaufman, Richard R. Niebuhr, and Sharon Welch in theology and Wilfred Cantwell Smith, William Graham, and Diana L. Eck in religion. He wrote his doctoral thesis on the relationship between liberalism and fundamentalism.
Muesse has taught at Harvard College, Harvard Divinity School, and the University of Southern Maine, where he also served as Associate Dean of the College of Arts and Sciences.  Muesse came to Rhodes College in 1988 as Assistant Professor of Religious Studies and became Associate Professor in 1995.  He served as Chair of the Department of Religious Studies, Director of the Life:Then and Now program, Director of the Asian Studies program, and the W. J. Millard Chair in Religious Studies.
At Rhodes, he teaches courses in world religions and philosophy, modern theology, and spirituality.  In 2007, he received national recognition by Fortress Press, which presented him with its Undergraduate Teaching Award at the American Academy of Religion annual meeting in San Diego.  In 2008, he received the Clarence Day Award for Outstanding Teaching, Rhodes′ highest honor for a member of its faculty. He was a 2011 recipient of the "Distinguished Service Award" from the Viswayogi Viswamji Foundation for Universal Integration and Peace in Guntur, Andhra Pradesh, India, for "outstanding and dedicated community service and exceptional efforts to promote 'human values and culture.'"
He has produced four lecture series and companion books for The Great Courses: The Great Religions: Hinduism; Religions of the Axial Age; Confucius, Buddha, Jesus, and Muhammad; and Practicing Mindfulness: An Introduction to Meditation.  He is the author of many articles and reviews in comparative religions and theology. His books include Redeeming Men: Religion and Masculinities, The Hindu Traditions: A Concise Introduction, which was awarded a Certificate of Special Distinction by the Uberoi Foundation for Religious Studies, and The Age of Sages: The Axial Age in Asia and the Near East.  His newest book, Four Wise Men: The Lives and Teachings of Confucius, Buddha, Jesus, and Muhammad, was published by Cascade Books in 2017.
Muesse has also been Professor of Theology at the Tamilnadu Theological Seminary in Madurai, India.   He has traveled extensively throughout Asia and has studied at International Buddhist Meditation Centre, MahachulalongkornUniversity, Bangkok, Thailand; the Himalayan Yogic Institute, Kathmandu, Nepal; the Middle East Technical University in Ankara, Turkey; and the Subodhi Institute in Piliyandala, Sri Lanka.   His wife Dhammika, a native of Sri Lanka, teaches in the Rhodes Chemistry Department.  They have a daughter, Ariyana, who is a eighth grader at Lausanne Collegiate School in Memphis.
Professor Muesse is on sabbatical leave during the 2017-2018 academic year.
Click here to watch the Professor Muesse's 2017 Baccalaureate speech.
LEARN AND LIVE: SOME THOUGHTS ON TEACHING
Multimedia
We′ve all heard of theism and atheism, but what is mysticism? Dr. Muesse sheds light on this approach to the nature of ultimate reality and explains why it′s relevant to our time. 
COURSES
Asian Studies 150/Religious Studies 258 - BUDDHISM 
Religious Studies 102 - THE BIBLE: TEXTS AND CONTEXTS
Religious Studies 255 - RELIGIOUS TRADITIONS OF INDIA
Religious Studies 258 - SPIRITUALITY WEST & EAST  
Religious Studies 258/Philosophy 250 - ASIAN PHILOSOPHIES 
Religious Studies 300 - THE FOUR WISE MEN: CONFUCIUS, BUDDHA, JESUS AND MUHAMMAD   
Education
M.T.S., A.M., and Ph.D., Harvard University
B.A., Baylor University (Phi Beta Kappa)