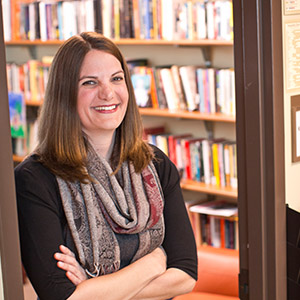 Kimberly Kasper
Assistant Professor of Anthropology
As an anthropological archaeologist, my research and teaching focuses on the ecological and cultural legacy of food and medicinal practices in eastern United States and southeastern Europe. Since I arrived at Rhodes, I have developed more "food" oriented classes as I have seen tremendous interest by students in deconstructing our own industrial foodways (how we got to where we are) and a desire to learn more about alternative subsistence strategies. Overall, my goal in and outside the classroom is to provide tools to digest, interpret and question "evidence," "history," and "authority" within environmental constructions.
At present, I am working on two interdisciplinary projects.  First, I am conducting research at the Mashantucket Pequot Museum and Research Center (MPMRC) on the adaptability and agency of politically marginal indigenous populations as they have confronted a diminishing land and resource base over the last 400 years. I use GIS, historical, ecological and archaeological (specifically archaeobotanical) techniques to explore these interactions in a changing landscape, while training undergraduates to assist with the project.
Second, I am deconstructing the evolution of food systems and inequality in the Greater Memphis region to understand how changes in land use have resulted in the most obese yet hungriest city in the United States. As a part of this study, over the last two years, I have excavated 19th century plantations in western TN to reconstruct the origins of the "Soul Food" diet. To combat this historical shift away from local food production and distribution and teach students about sustainable food systems, I, along with several  students, have organized our first Rhodes Community Garden and the off-campus Evergreen Community Farmers Market. I also work with undergraduates in collaboration with many food-oriented non-profits in the Memphis area, such as GrowMemphis, RootMemphis and BringIt! Food Hub. My goal is to provide a deeper appreciation of food production, distribution and access within this unique Southern foodscape.
For More Information about the Field School in Environmental Archaeology:
https://www.rhodes.edu/archaeology
For More Information about the Rhodes Community Gardens and Local Lynx Farmers Market:
https://www.facebook.com/RhodesCollegeCommunityGarden
SELECTED PUBLICATIONS
Kasper, Kimberly and Margaret Morris (In prep)  Footprints in the Soil: Exposing Plant-Related Activities with Geographic Information Systems. Journal of Archaeological Science.
Kasper, Kimberly, Christian Mann, and Mary Phillips (In prep) "Where Did the Collard Greens Go?": Invigorating a Local Food System in Memphis. Journal of Agriculture and Human Values. 
Kimberly Kasper, Robert Paynter, and Broughton Anderson (editors) 2012  Special Issue: The Materialities of Traces and Legacies. Archaeologies 8(3).
Kasper, Kimberly  2012 Seeds for the Future: the Materialities of Traditional Ecological Knowledge.Archaeologies 8(3):269-292.
Robert Paynter, Kimberly Kasper and Broughton Anderson  2012  The Materialities of Traces and Legacies. Archaeologies 8(3):197-208.
Kasper, Kimberly 2010   The Spatiality of Food: Defining Early Copper Age Households on the Great Hungarian Plain. In Reimagining Regional Analyses: The Archaeology of Spatial and Social Dynamics, edited by Tina Thurston and Roderick Salisbury, pp. 164-198.  Cambridge University Press.
Education
Ph.D. Anthropology [Archaeology]. U of Massachusetts, Amherst.
M.Sc. Environmental Archaeology and Palaeoeconomy. Sheffield University
M.Sc. Anthropology. Florida State University
B.A.  Anthropology and History. Fordham University