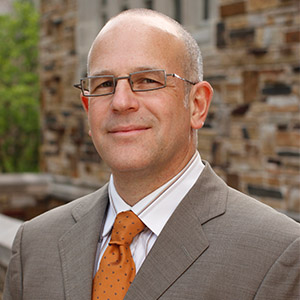 Jonathan Judaken
Spence L. Wilson Chair in Humanities, Professor of History
Teaching
My hope is to turn my classroom into a laboratory of experimentation so that the course material, generally based on thematic concerns (eg. race and racism, intellectuals and politics, existentialism, modern Jewish thought and culture) can be pursued across disciplinary lines. Students will work at the intersection of history, philosophy, religion, and literature, among other subjects. We explore lots of visual and textual sources, attempting to understand their multiple layers of meaning, as well as the contexts in which they were produced and later interpreted, applying their insights to our own lives. Our topics will also be linked to intellectual events happening on campus, so that learning exceeds the bounds of the class. I also like to invite other scholars to join us so that students are constantly brought into contact with the latest approaches in the academy to the subjects of their study.
Research
My research focuses primarily on how intellectuals represent Jews and Judaism and race and racism. I want to understand the patterns that underpin race thinking as well as those that lead to respect and responsibility for others. My work ranges across the history of existentialism, the critical philosophy of race (anti-Jewish and anti-black), critical theories of anti-Semitism, and post-Holocaust French Jewish thought.
My first book, Jean-Paul Sartre and ′the Jewish Question′: Anti-antisemitism and the Politics of the French Intellectual (University of Nebraska Press, "Texts and Contexts" series, 2006) examines the figure of ′the Jew′ in Sartre′s work. This is done to not only re-assess Sartre′s oeuvre, but the role of the intellectual in France and the politics and ethics of existentialism.
I followed this up with an edited collection entitled, Race After Sartre: Antiracism, Africana Existentialism, Postcolonialism (SUNY Press, "Philosophy and Race" series, 2008) that examines Sartre′s influence on critical race theory, anticolonialism, and Africana thought.
This led to a more wide-ranging edited volume, Naming Race, Naming Racisms (Routledge, 2009), that focuses on key flashpoints and figures to explore how race and racism have been understood and articulated in the shifting historical contexts from the late-eighteenth century to the present. It closes with an interview I did with Cornel West about black intellectuals in America today.
My most recent book was co-edited with Robert Bernasconi, Situating Existentialism: Key Texts in Context (Columbia University Press, May 2012). Each chapter opens with a new interpretation of one of the major works of existentialism by leading intellectual historians, philosophers, literary critics, and religious studies scholars. The book historicizes the process of canonizing and systemizing a system of thought that was anti-systemic at its core. It provides a guide for undergraduates and graduate students wrestling anew with existentialism, while pushing scholars to rethink its borders and boundaries.
I have long been working on another academic monograph, Critical Theories of Antisemitism: Confronting Modernity and Modern Judeophobia. It offers a comparative history of major theories of Judeophobia in the work of Sartre, Hannah Arendt, members of the Frankfurt School, Talcott Parsons, Zygmunt Baumann, Jean-François Lyotard, and in the work of two extraordinary historians, Léon Poliakov, and George Mosse. I have begun to publish pieces of this larger project.
As a Senior Fulbright specialist, I visited Israel in the summer of 2011 at the invitation of Haifa University and Tel Aviv University and South Africa in the summer of 2013 at the invitation of the University of Cape Town. I spent a year as scholar-in-residence at the United States Holocaust Memorial Museum (2006-2007).
A founding member of the International Consortium for Research on Racism and Antisemitism, I serve as the U.S. Consulting Editor for Patterns of Prejudice, on the Associate Editorial Board for Critical Philosophy of Race, on the Advisory Board for H-Antisemitism, as Past President of the North American Sartre Society, on the National Board of Scholars for Facing History and Ourselves, and I served previously on the Governing Council of the Western Society for French History. My radio show, "Counterpoint" airs monthly on WKNO-FM, NPR for the Mid-South. I interview academics and intellectuals who are making significant contributions to the national conversation on topical issues. I also blog at the Huffington Post.
SELECTED PUBLICATIONS
Books and Edited Volumes
· Situating Existentialism: Key Texts in Contexts (Columbia University Press, May 2012)
· Naming Race, Naming Racisms (Routledge, April 2009)
· Race After Sartre: Antiracism, Africana Existentialism, Postcolonialism (SUNY Press, "Philosophy and Race" series, September 2008)
· Jean-Paul Sartre and the Jewish Question: Anti-antisemitism and the Politics of the French Intellectual (University of Nebraska Press, "Texts and Contexts" series, November 2006)
Articles
· "Léon Poliakov, Philosophy, and the Secularization of Anti-Judaism in the Development of Racism" Graduate Faculty Philosophy Journal, Vol. 35, No. 1-2 (2014): 181-205
· "'The presentiment and memory of the Nazi horror': Emmanuel Levinas and the Holocaust" in Europe in the Eyes of Survivors of the Holocaust, eds. Zeev Mankowitz, David Weinberg, and Sharon Kangisser Cohen (Jerusalem: Yad Vashem, 2014), 171-206
· "Modern Anti-Semitism," Oxford Bibliographies in Jewish Studies, ed. David Biale (New York: Oxford University Press, 2014-05-29)
· "Talcott Parson's 'The Sociology of Modern Antisemitism': Anti-antisemitism, Ambivalent Liberalism, and the Sociological Imagination," Antisemitism and the Constitution of Sociology, ed. by Marcel Stoetzler (Lincoln: University of Nebraska Press, 2014): 249-273
· "Vladimir Jankélévitch at the Colloques des intellectuels juifs française" in Vladimir Jankélévitch and the Question of Forgiveness, ed. Alan Audoff (Lanham, Maryland: Lexington Books, 2013): 3-26
· "Sisyphus' Progeny: Existentialism in France" in Jonathan Judaken and Robert Bernasconi, eds., Situating Existentialism: Key Texts in Context (New York: Columbia University Press, 2012): 89-122.
· "Blindness and Insight: The Conceptual Jew in Arendt and Adorno's Post-Holocaust Reflections on the Antisemitic Question" in Arendt and Adorno: Political and Philosophical Investigations, ed. by Lars Rensmann and Samir Gandesha (Stanford: Stanford University Press, 2012): 173-195
· "Sartre, Multidirectional Memory, and the Holocaust in the Age of Decolonization," Modern Intellectual History, vol. 8, no. 2 (August 2011): 485-496
· "Homo Antisemiticus: Lessons and Legacies" Holocaust and Genocide Studies, vol. 23, no. 3 (Winter 2009): 461-477
· "Between Philosemitism and Antisemitism: The Frankfurt School's Anti-Antisemitism," Antisemitism and Philosemitism in the Twentieth and Twenty-First Centuries: Representing Jews, Jewishness and Modern Culture, ed. by Phyllis Lassner and Lara Trubowitz (Newark: University of Delaware Press, 2008): 23-46.
· "So What's New? Rethinking the 'New Antisemitism' in a Global Age," Patterns of Prejudice, v. 42, n. 4-5 (Autumn 2008): 531-560.
· "Intellectuals, Culture and the Vichy Years: Re-appraisals and New Perspectives," Contemporary French Civilization, Denis Provencher and Andrew Sabonet, eds. special issue France, 1940-1944: The Ambiguous Legacy, vol. 31, no. 2 (Fall 2007): 83-115.
· "Beauvoir's Blues, Sartre's Jews: Reading L'espoir maintenant," Journal of Romance Studies, vol. 6, no. 1&2 (Spring/Summer 2006): 169-183.
· "Alain Finkielkraut and the Nouveaux Philosophes: French-Jewish Intellectuals, the Afterlives of May '68 and the Re-birth of the National Icon" Historical Reflections/Réflexions historiques, vol. 32, no. 1 (Fall 2006): 193-223.
Education
Ph.D., History, University of California, Irvine
M.A., History, University of California, Irvine
B.A., Philosophy, University of California, San Diego