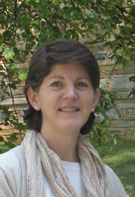 Jackie Baker
Departmental Assistant
Jackie Baker became the Departmental Assistant for the Political Science Department in April 2010. She works directly with the professors in the department and oversees five student workers. In addition, she is the Programming Assistant to the Spence L. Wilson Chair in the Humanities.
Having earned an Associate's Degree in Data Processing from Bryant and Stratton Business Institute in Buffalo, NY, her plan was to become a programmer. Combining her interest in computers with her love for anything creative, she took a job doing typesetting and paste-up at Hoffman Printing in Buffalo. There she became an apprentice typesetter and earned the title of Journeyman Typesetter.
Over the course of thirty plus years with four different printing and design companies, she continued to work in the industry doing typesetting, paste-up and page-layout, moving into design as desktop publishing started to replace the more traditional systems. Seventeen of those years were spent at Gooding Co. Inc. in Lockport, NY where, in addition to doing design work, she was systems administrator and ended her career there in the role of quality assurance assistant. After moving to Florida in 2008 she took a job at Vista Color in Miami as a customer service representative.
Jackie and her family moved to Memphis – her husband's birth place – in October 2008 via a 10 month stay in Miami, FL after her husband received a job transfer in 2007.
When she's not at work, Jackie enjoys cooking, reading, trying her hand at all kinds of creative projects, and redecorating her house.
Jackie and her husband have two children. Their daughter lives in TX and does on-line English, math and science tutoring to Chinese students in China. Their son is a recent Rhodes graduate and works for PSAV, a leading provider of audiovisual and event technology support. They have two rescue dogs – Willie and Willis.
Education
Associate's Degree in Data Processing, Bryant and Stratton Business Institute in Buffalo, NY