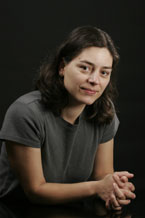 Iren Zombor is a native of Miskolc, Hungary. After attending music college in her hometown, she lived in Bratislava, Slovakia for two years, where she studied with the famous Slovak cellist, Joseph Podhoransky. She received her Master of Music degree in cello performance from the University of Massachusetts at Amherst. She has been a member of the Memphis Symphony Orchestra since the fall of 1996, where she currently holds the Assistant Principal Cello position.
Ms. Zombor has performed around the world with various orchestras as far as Eastern and Western Europe and Japan. In addition to her busy performance schedule, her passion has long been private teaching. She has taught students of all ages at all levels. She has been on the Rhodes College faculty since 2004.
Her newest endeavor is joining the Memphis based PRIZM Ensemble in the fall of 2013. The members of the group perform and teach chamber music year round and started a week-long chamber music festival 4 years ago.
Education
M.M., University of Massachusetts at Amherst