Rhiannon Graybill
Assistant Professor of Religious Studies, Program Director of Gender and Sexuality Studies
(901) 843-3532
Rhiannon Graybill holds a PhD in Near Eastern Studies from UC Berkeley, with a Designated Emphasis in Critical Theory. Her research interests include Hebrew prophetic literature, gender and sexuality in the Hebrew Bible, feminist and queer theory, and psychoanalysis and ancient Near Eastern literature. Her current work focuses on the problems of masculinity and embodiment in the Hebrew prophets.
SELECTED PUBLICATIONS
"Uncanny Bodies, Impossible Knowledge and Somatic Excess in Isaiah 29," The Bible and Critical Theory, Vol. 7, No. 1 (2011).
"Enter Job, with Fear and Trembling," in Anagnorisis: Classical Recognition After Aristotle, edited by Teresa Russo, University of Alberta Press, 2012.
"Voluptuous, Tortured, and Unmanned: Ezekiel and Daniel Paul Schreber" in The Bible and Posthumanism, Semeia Studies, edited by Jennifer L. Koosed. (forthcoming)
Book: Unstable Masculinity in the Hebrew Prophets (Oxford 2016) Selected articles: "Masculinity, Materiality, and the Body of Moses," Biblical Interpretation, Vol. 23, No. 3 (2015).
"Surpassing the Love of Women: From Feminism to Queer Theory in Biblical Studies," in Feminist Interpretation of the Hebrew Bible in Retrospect, vol. 3., ed. Susanne Scholz. Sheffield Phoenix (forthcoming 2016).
"The Eldritch Scroll: Fantasies of the Found Book in Borges, Lovecraft, and 2 Kings," in Borges and the Bible: A Collection of Essays, ed. Richard Walsh and Jay Twomey. Sheffield Phoenix, 2015.
BOOKS
Are We Not Men? Unstable Masculinity in the Hebrew Prophets (Oxford, 2016).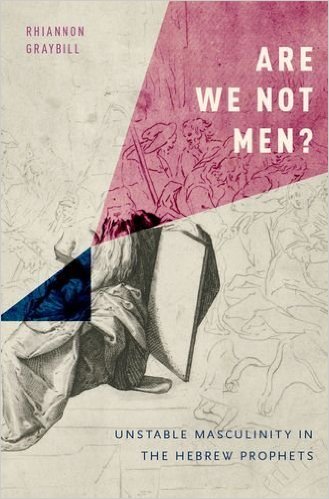 Education
Ph.D. University of California at Berkeley
M.A. University of California at Berkeley
B.A. Swarthmore College, Pennsylvania (Phi Beta Kappa)