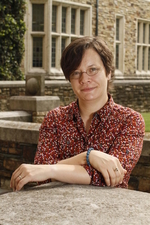 Elizabeth Bridges
Associate Professor - German
Elizabeth Bridges serves as Associate Professor and Head of Section for German Studies. Before joining the MLL faculty at Rhodes in 2009, Bridges served for four years as a visiting professor at Hendrix College, where she taught all levels of German, as well as courses in Comparative Literature and Film Studies, on topics such as Other Worlds in Literature, Coming of Age, and German Cinema. Her teaching interests include the Bildungsroman, the Faust theme, the Uncanny, representations of science and technology in literature and film, constructions of gender and sexuality, and visual culture of the 18th and 19th centuries.
After receiving her B.A. in English from Hendrix College in 1995, she spent a year on the Congress-Bundestag Exchange for Young Professionals, which included study at the Universität Hamburg and an internship at Gruner+Jahr publishing company. In 1998 she completed her M.A. in German at the University of Arkansas, where she also worked as an editorial and teaching assistant. She went on to Indiana University in Bloomington, which included a year as a Max Kade Fellow and another as an Oskar Seidlin Dissertation Fellow. She also served as an Associate Instructor in German for four years and taught on the university′s summer program in Graz, Austria. She and spent 2001-2002 at the Freie Universität Berlin as a Fulbright Research Fellow. In 2005 she completed her Ph.D. in German with an outside concentration in the Department of Communication and Culture.
Her dissertation, Die Mensch-Maschine: Technologies of Replication and Reproduction in German Literature and Culture, discussed representations of the mechanical human in key German texts since 1770. Since then, her continued research has focused on visual culture, including representations of Nazism in popular culture, as well as 18th- and 19th-century European visual culture and discourses on gender and technology in the context of traveling automaton exhibitions. Her interest in visual culture also extends to pedagogy with her 2009 article "Bridging the Gap: A Literacy-Oriented Approach to the Graphic Novel Der erste Frühling," which was honored by the AATG as Best Article of the Year.
In her spare time, she enjoys walking her dog, travel, creative writing, and geeky TV shows.
SELECTED PUBLICATIONS
Book:
Nazisploitation!: The History, Aesthetics and Politics of the Nazi Image in Low-Brow Film and Culture. (Editor with K. Vander Lugt and D. Magilow). New York: Continuum Group, 2011.
Articles / Book Chapters:
"Maria Theresa and 'The Turk:' Habsburg Nostalgia in 1770." Journal of Austrian Studies. Forthcoming.
"Nasty Nazis and Extreme Amis: Cloning, Eugenics, and the Exchange of National Signifiers in German Science Fiction Texts." 20th and 21st-Century Literature. Forthcoming.
"Utopia through the Back Door: Kleist's Marionettes and the Mechanics of Self-Consciousness."Seminar: A Journal of Germanic Studies. 48:1. February 2012. 75-90.
"Reproducing the Fourth Reich: Cloning, Nazisploitation, and Revival of the Repressed." In Nazisploitation! above. New York: Continuum, 2011. 72-91.
"Bridging the Gap: A Literacy-Oriented Approach to the Graphic Novel Der erste Frühling." Die Unterrichtspraxis / Teaching German.42:2 (Fall 2009). 152-161.
"Grimm Realities: Buffy the Vampire Slayer and the Uses of Folklore." Buffy Meets the Academy: Television as Text. Kevin Durand, ed. Jefferson, NC: McFarland Publishers, 2009. 91-103.
"Love Parade GmbH vs. Chicks on Speed: Electronic Music as a Mode of Feminist Expression in Contemporary Germany." Yearbook of Women in German. 21:2005. 215-240.
Submissions:
"Foreign Powers, Strange Attractions, and 'The Turk': Queer Affinities in Hoffmann's 'Die Automate.'" At Yearbook of Women in German.
 "Creating the LGBT-Friendly German Language Classroom: An Everyday Approach for Fostering Tolerance Among Students of all Orientations," At Die Unterrichtspraxis / Teaching German, with Corinna Kahnke, Duke University.
Education
B.A. (English) Hendrix College 1995
M.A. (German) University of Arkansas
Ph.D (German)