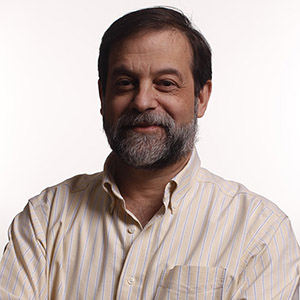 Alan Jaslow
Associate Professor of Biology, Health Professions Advising Director Emeritus
RESEARCH INTERESTS
Vertebrate Biology, Functional Morphology, Animal Communication
Dr. Alan Jaslow's research in behavior focuses on animal communication and mainly acoustics. He is working with the vocalizations made by Giant Pandas at the Memphis Zoo. Research projects in functional morphology have focused on both the evolution of middle ears in amphibians, and the functional significance of leg bone diameter and thickness in different sized mammals. He has also looked at these scaling phenomena in the growth patterns in tarantulas.
Dr. Jaslow has a passion for showing undergraduates aspects of the natural world that they never knew about before. He enjoys interacting with students in small classes and labs and expects frequent questions. He encourages students who are interested in the health professions to contact him early so he can help them identify their particular interests.
Availability
Spring  Office Hours Dr. A. Jaslow, 140 FJ
Walk-in Open hours MTW
Mon,  8:00-11:00am, 2:00pm-4:00pm
Tue,  8:00-11:00am
Wed,  8:00-11:00am, 1-3:30pm 
For booked appointments 15 to 30 minutes on Thursday and and Friday, visit this page.
Thur.  8:00-11:00am, 12:15–3:00pm
Fri  8:00-11:00pm
Occasionally I may need to cancel a block due to newly scheduled obligations (if so, please understand!). I will be gone Wednesday through Friday, Thursday and Friday, and Friday several times this term for meetings. Remember you can always call me on my cell phone 901.832.6829 before 9pm CST, 7days/wk, or email, ajaslow@rhodes.edu
SELECTED PUBLICATIONS
Jaslow, A. P. and R. C. Vogt. 1977.  Identification and distribution of Hyla versicolor and Hyla chrysoscelis in Wisconsin.  Herpetologica 33:201-205.
Bogart, J. and A. P. Jaslow.  1979.  Distribution and call parameters of Hyla chrysoscelis and Hyla versicolor in Michigan.  R. Ontario Mus. Life Sci. Contr. (117):1-13.
Jaslow, A. P. 1979.  Vocalization and aggression in Atelopus chiriquiensis (Amphibia, Anura, Bufonidae).  J. Herpetol. 13:141-145.
Nussbaum, R. A., A. P. Jaslow, and J. Watson.  1982.  Vocalization in frogs of the family Sooglossidae. J. Herpetol.  16:198-204.
Hetherington, T. E., A. P. Jaslow and R. E. Lombard. 1986.  Comparative morphology of the amphibian opercularis system,  Part I; general design and functional interpretation. J. Morph. 190:43-61.
Jaslow, A.P., T.E. Hetherington and R.E Lombard. 1988.  Structure and function of the amphibian middle ear. Chapter 4, pp. 69-92. In, Evolution of the Amphibian Auditory System. (Eds. Fritzsch, Ryan, Wilczynski, Hetherington, & Walkeoviak). Wiley & Sons.
Crocroft, R.B., R.W. McDiarmid, A.P. Jaslow, and P.M. Ruiz-Carranza. 1990. Vocalizations of eight species of Atelopus (Anura: Bufonidae) with comments on communication in the genus. Copiea 1990: 631-643.
Jaslow, A.P. and R.E. Lombard.  1996.  Hearing in the neotropical frog, Atelopus chiriquiensis.  Copeia.1996: 428-432.
Jaslow, A.P., A. Groves, J. Bartlet-Prescot.  1997.  Social behavior in the Chilean flamingo,Phoenicopterus chilensis.  American Zoo and Aquarium Association Regional Conference Proceedings, 1997: 73-76.
Savage, J.M., B.D. B Hollingsworth, K.R. Lips, and A.P. Jaslow. 2004. A new species of rainfrog (genusEleuthrodactylus) from the serranía tabasará, west-central Panama and reanalysis of the Fitzingerispecies group.  Herpitologica 60(4): 519-529.
Education
B.S. in Zoology, University of Wisconsin, Madison, 1974
M.S. in Zoology, University of Michigan, Ann Arbor, 1976
Ph.D. in Biological Sciences, University of Michigan, Ann Arbor, 1982