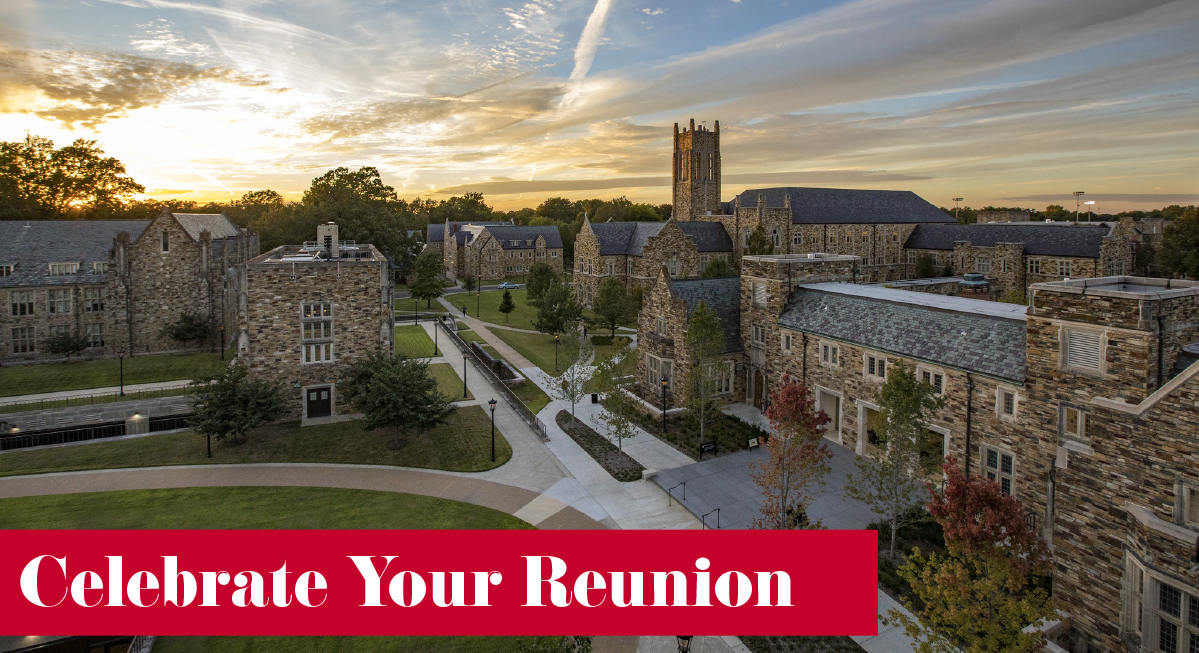 SAVE THE DATE
Homecoming/Reunion Weekend
October 1-3, 2021
 
Please note: As last year's festivities were cancelled due to the pandemic, we are currently working with Reunion Committee members from both this year and last year to devise a plan where we can celebrate together on campus or at a venue in Memphis. If your class year ends in a 1, 6, 0, or 5 make plans to celebrate in October!

We will post the complete schedule of events the beginning of August 2021. 
---
Progress to Date for Reunion Giving Goals
Giving and participation totals are updated regularly and include gifts and pledges to the Rhodes Annual Fund since July 1, 2020. 
Select your Reunion Year from the drop down menu for current information. You can make a gift in celebration of your reunion year by completing the form at the bottom of the page. We hope to see you in October!
If you have any questions, or would like to join your reunion committee, please contact Brittany L. Tuggle, Assistant Director of Annual Giving (Reunions), tuggleb@rhodes.edu.
Class of 2016 - 5th Reunion
Current Standings
25 - Number of Donors
6.07% - Participation
$1,600.37 - Gifts and Pledges
Reunion Committee Members
Brittany Clark '16
Rachel Harris '16
Alix Harte '16
Natasha Siracusa '16
Eric Wong '16

Gifts

Regan Adolph '16
Bristol Bell '16
Alex Box '16
Paul Brandt '16
Isabelle Bruner '16
Jay Clinton '16
Jonathan Coleman '16
Evan Deere '16
Alex Dileo '16
Rachel Harris '16
Pearlissa Harris '16
Alix Harte '16
Mary Rose Hazel '16
Cecile Lonjaret '16
Ansel MacLaughlin '16
Samantha Ouyang '16
Michael Scully '16
Amber Sinclair '16
Marguerite Spiotta '16
Isabel Steen '16
Jessica Trivizas '16
DeSonya Tyms '16
Chi Whitley '16
Eric Wong '16
Kelsey Young '16
Class of 2011 - 10th Reunion

Current Standings
26 - Current Number of Donors
9.77% - Current Participation
$2,638.48 - Gifts Received as of Today
Reunion Committee Members

Eric Dailey  '11
Liz Moak '11
Jarrett Tate '11
Heather Troupe '11
Grace  Weil '11

Gifts

Anonymous '11
Chenise D. Anthony '11
Emily F. Bach '11
Matthew W. Bergin '11
Steven D. Brunson '11
Andrew W. Campbell '11
Jessica H. Cohen '11
Claire A. Cullen '11
Holly E. Edwards '11
Matthew D. Frank '11
Alana N. Fritsche '11
Josie S. Holland '11
Kristen A. Jones '11
Ashley C. Jones '11
Christine J. Lu '11
Elizabeth B. Moak '11
Christopher B. Moore '11
Emily C. Nesler '11
Catherine A. Olson '11
Russell P. Powers '11
Stephen F. Risley '11
Kenneth S. Scott '11
Frederick K. Sheldon '11
Heather B. Troupe '11
Courtney C. Tucker '11
Grace M. Weil '11
Class of 2006 - 15th Reunion

Current Standings
42 - Number of Donors
15.44% - Participation
$16,718.74 - Gifts and Pledges
Reunion Committee Members

Desmond Campbell '06
Ashely Mitchem Dillingham '06
Brent Owens '06
Gifts
Anonymous  '06
Stephen M. Ash '06
Allison C. Baker '06
Katherine D. Bartholomew '06
Robert G. Baty '06
Abigail T. Burka '06
Desmond L. Campbell '06
Meghan D. Clark '06
Jacob T. Cremer '06
Jonathan M. Croft '06
Patrick W. Crouch '06
Laura-Caroline de Lara '06
Ashley M. Dillingham '06
Scott M. Douglass '06
Sarah L. Fairchild '06
Andrew F. Godfrey-Kittle '06
Robert C. Gunn '06
Lydia V. Hathorn '06
Christine E. Hendrickson '06
Carrie O. Johnston '06
Korey J. Kormick '06
Celia B. Lerch '06
Philip A. LeTard '06
Molly W. Logan '06
Ashley C. Lyerly '06
Colleen F. Macmurdo '06
Laura D. McSorley '06
Frederick T. Montesi '06
Brent A. Owens '06
Katherine B. Picardo '06
Anna I. Ritz '06
Jennifer L. Rogers '06
Megan B. Shelton '06
Nicole W. Stranch '06
Ethan W. Stranch '06
Meriwether W. Truckner '06
Dane G. Wendell '06
Caroline K. Willson '06
William M. Willson '06
Mark A. Wilson '06
Class of 2001 - 20th Reunion

Current Standings
33 - Number of Donors
13.41% - Participation
$6,366.47 - Gifts and Pledges
Reunion Committee Members

Brian Clary '01
Katy Gray '01
Claire Hegarty '01
Leigh Manasco '01
Shelley Matthews '01
Olivia Mayberry '01
Amit Merchadani '01
Kate Stakem '01

Gifts

DeAnna S. Adams  '01
Amy T. Andrews '01
Anonymous '01
Catherine N. Burton '01
Emily W. Bynum '01
Brian M. Clary '01
Kosta C. Dalageorgas '01
Jennifer C. Durovchic '01
Barnett O. Edelen '01
Erin M. Everitt '01
Anne M. Fajkus '01
Lauren E. Falco '01
Sophie Guislan Lowrance '01
Suneel C. Gupta '01
Barrett L. Haga '01
Claire C. Hegarty '01
Karen S. Kopitsky '01
Sarah J. Lanneau '01
Erin M. Markel '01
Shelley S. Matthews '01
Olivia D. Mayberry '01
James-Allen McPheeters '01
Emily E. Nayar '01
Heidi R. Royal '01
Elizabeth N. Royster '01
Jeremy C. Smith '01
Andrew M. Sullivan '01
Dorothy K. Weir Cook '01
Christina Willenbrock '01
Sara M. Wilson '01
Elisabeth M. Yoder '01
Patrick D. Yoder '01
Class of 1996 - 25th Reunion

Current Standings
38 - Number of Donors
16.38% - Participation
$17,656.00 - Gifts and Pledges
Reunion Committee Members

Jeb Hoge '96
Jennifer Larson '96
David Overend '96
Kristen Taylor Duncan '96
Gifts
Anonymous '96
Natalie D. Bailey '96
Ada M. Bettridge '96
Matthew J. Bettridge '96
Jane P. Brigden '96
John C. Chauvin '96
John G. Curren '96
Kristen T. Duncan '96
Douglas B. Duncan '96
Mary Kent H. Ellis '96
David B. Eubanks '96
Elizabeth M. Evans '96
Janet L. Farris '96
Hillary A. Fechter '96
Patrick G. Fisher '96
Susan M. Gaither '96
John L. Havercamp '96
Michael W. Hayes '96
Anna H. Hullum '96
Sara K. Johnson '96
Richard C. Kamm '96
Jennifer J. Larson '96
Natasha S. Lewis '96
Courtney M. Murphy '96
Christina S. Nachman '96
Edward M. Parker '96
Amanda W. Peoples '96
Jennifer W. Rhem '96
John D. Rodriguez '96
Michael J. Rosolino '96
Cassandra W. Runnels '96
Michael S. Sabom '96
Rebecca Sanchez '96
Marcie A. Van Mol '96
Mary Beth B. Williams '96
Elizabeth B. Wilson Duke '96
Marla R. Wood '96
 
Class of 1991 - 30th Reunion

Current Standings
40 - Number of Donors
16.39% - Participation
$37,772.28 - Gifts and Pledges
Class of 1986 - 35th Reunion

Current Standings
23 - Number of Donors
17.42% - Participation
$26,430.00 - Gifts and Pledges
Reunion Committee Members

Knight Champion '86
Mike Palazzolo '86
Susan Stribling '86
Class of 1981 - 40th Reunion

Current Standings
46 - Number of Donors
25.14% - Participation
$19,142.00 - Gifts and Pledges
Reunion Committee Members

Stacy Abernathy '81
Margaret Freeman '81
Kevin Collins '81
Gifts
Stacy R. Abernethy '81
Bryn W. Bagwell '81
Warren K. Bass '81
Susan R. Bransford '81
Kathryn K. Brown '81
James H. Butler '81
William M. Clark '81
Kevin E. Collins '81
Deborah L. Corley '81
Carol C. Czeczot '81
Rebecca L. D'Anna '81
Patrick S. Dempsey '81
Sydney R. DeWitt '81
Paul T. Dorian '81
Erroll Eckford '81
Margaret D. Freeman '81
Rebecca D. Harris '81
Sally B. Hawley '81
Catherine H. Hunt '81
Craig A. Ingvalson '81
Steven F. Jackson '81
Steven D. Jacobson '81
Mary K. Kennedy '81
Jeffrey A. Lane '81
Bruce R. LeForce '81
Karen H. Levy '81
Kevin A. McLellan '81
Elizabeth M. McRae '81
Janet F. McRae '81
Joseph F. Meehan '81
Joseph J. Nash '81
Clayton I. Peeples '81
Beth V. Robinson '81
William R. Robinson '81
Daniel W. Sadler '81
Gina M. Salvati '81
Steven A. Schenker '81
Robin V. Scott '81
Thomas L. Seal '81
Emily P. Stevens '81
Paul J. Ward '81
Sarah J. Windes '81
Gregory A. Wineland '81
Catharine M. Woods '81
Thomas N. Woods '81
Virginia M. Yeatman '81
Class of 1976 - 45th Reunion

Current Standings
39 - Number of Donors
22.41% - Participation
$26,563.21 - Gifts and Pledges
Gifts
Georgia M. Atkins '76
John E. Brejot '76
Sallie B. Clark '76
Priscilla D. Coe '76
Susan M. Crawley '76
Jan C. Davenport '76
Lynn F. Dunavant '76
John C. Edmunds '76
Robert H. Eklund '76
Carolyn J. Epps '76
Cynthia H. Feltus '76
Raymond E. Fitzgerald '76
Laura Y. Fulton '76
Thomas C. Gattas '76
Gary P. Gehrki '76
Claire M. Gehrki '76
Patrice P. George '76
William K. Gooch '76
Robert M. Hamilton '76
James C. Hawkins '76
George F. Higgs '76
Daniel M. Hougland '76
Cameron B. Icard '76
Walter R. Inscoe '76
Leslie D. Jones '76
Arthur L. Kellermann '76
Sarah E. LaCour '76
Virginia H. Martin '76
Mark A. Moll '76
Carol E. Morgan '76
Royce F. Morris '76
Rebecca S. Parker '76
Louis M. Phillips '76
Randall B. Robertson '76
Rosemarie C. Rosell '76
P. L. Sanders '76
Ann L. Schulze '76
Donald E. Schulze '76
Sara J. Sims '76
Stephen H. Williford '76