If you are interested in Rhodes College, pick a date, schedule a visit and come see us! Expressed interest while looking at our college is important to us and there is no better way to show that than coming to campus. Our year long schedule of events provides prospective students and parents with a variety of convenient opportunities to visit our campus. We cannot wait to meet you! Feel free to contact us at visit@rhodes.edu. If you require further assistance with registration, call (800) 844-5969. 

Daily Visits – Monday through Friday
Prospective students and their families can schedule a visit to Rhodes' campus Monday through Friday, any month of the year. You will meet our students, faculty and staff, attend classes, learn more about the unique relationship between Rhodes and Memphis, and gain practical insight into the application process, scholarships and financial aid.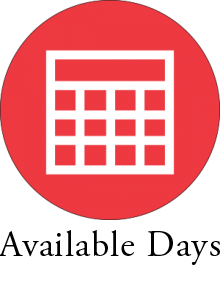 We also offer special departmental tours for the sciences and mock trial. If you let us know what your personal interests are, we can tailor a visit specifically for you.
Senior Overnight Experience
The Senior Overnight provides prospective high school seniors an opportunity to explore Rhodes outside of the normal campus visit and classroom. The visit will include eating in the dining hall, spending time with students, participating in campus life, and staying with one of our current students in the residence halls. Please find our requirements below for scheduling a Senior Overnight Experience:
High school seniors only
Offered Sunday through Thursday evenings between Sunday, September 17 and Sunday, November 18.
Provide 2 weeks notice to ensure accommodations with student host 
Suggest seniors stay with us the evening before their next day's campus tour
You may schedule your Senior Overnight Experience by viewing our Campus Visit Calendar and selecting an overnight visit during your registration. You may also call our Campus Visit Coordinators at 901-843-3700 or email visit@rhodes.edu for additional assistance. 
You will be contacted by your Rhodes student host about 24 hours prior to your stay. The host will provide an air mattress, but we recommend that you bring a pillow, sleeping bag and towel. Do not forget to complete the health forms and waiver before you arrive to campus. 
Saturday Campus Visits
When you visit on a Saturday, you can enjoy a campus tour and an information session led by a member of our faculty. An admission counselor will also present admission, scholarships, and financial aid at Rhodes. Spend the afternoon at Rhodes but stay in Memphis for the weekend!
September 15, 2018
November 3, 2018
January 19, 2019
February 16, 2019
March 16, 2019
April 27, 2019
Check out the I Love Memphis Blog for exciting ways to explore Memphis.
Special Programs
Throughout the academic year, we offer several visit programs that provide prospective students and parents with a thorough introduction to Rhodes and Memphis.
Discover Rhodes
The Discover Rhodes program is designed to give you a glimpse of  how students live and learn at Rhodes by providing a student led campus tour, information sessions where you will hear about academics and how to apply to Rhodes, and the chance to hear directly from Rhodes students.
Open Houses
This is a unique opportunity for prospective students to tour campus, meet current students, hear a panel discussion about our students' experiences and attend sample classes.
Cross Roads Visit Program
On February 24-25 and April 12-13 Rhodes will host Cross Roads for admitted students. Cross Roads is an admission program that celebrates the many cultural experiences of our prospective students and provides a window into what those experiences could look like at Rhodes. Attendees can expect to hear from Rhodes students, faculty, and staff regarding the intersectionality of race, religion, gender, sexuality, and more.  Students who identify with, or are allies of, multicultural groups are welcome to attend. Interested students should register online in starting in January.
February 24, 2019
April 12, 2019
Live Close, Feel Far!
A program designed by and for high school students who are from the greater Memphis area. Learn about the Rhodes experience from the perspective of our students who once attended local high schools. This event features faculty, staff, and parent panels for parents while students are challenged to team trivia. Come early for an optional information session about pre-engineering or health professions advising. Even if you have visited campus before, this will be an informational and fun evening for the whole family.
Junior and Sophomore Journey
This is designed for Juniors and Sophomores and offers students the chance to get a feel for the college experience. Students will learn about academics by attending a class while parents hear faculty talk about the opportunities inside and outside the classroom. Students and parents will learn specifics about Rhodes admission and take a campus tour led by a student diplomat. 
February 18, 2019
March 11, 2019
Accepted Student Programs
Preview Day is designed for students who have been accepted to Rhodes for the Fall of 2019 and their parents. The event provides the opportunity to meet future classmates and spend a beautiful and exciting day in Memphis and on Rhodes campus meeting faculty, staff and students who are eager to share their expertise and stories. The day includes attending a real or mock class, residence hall tours, student and faculty interaction, hearing from Memphians about important Memphis and Rhodes connections and lunch.
High School Group Visits
Group visits are offered for high school students on Tuesdays, Wednesdays or Thursdays, and may include a 30-minute information session and/or an hour-long walking tour of campus. High School Group visits are for up to 60 students with one adult to accompany every 10 students. Please start early in your visit planning process by calling our campus visit service coordinator at 901-843-3700 to check availability.
Campus Calendar
Classes begin - August 22, 2018
Labor Day - September 3, 2018
Fall Recess - October 13-16, 2018
Thanksgiving Recess - November 21, 2018
Last day of Classes - December 5, 2018
Final Exams - December 7-12, 2018