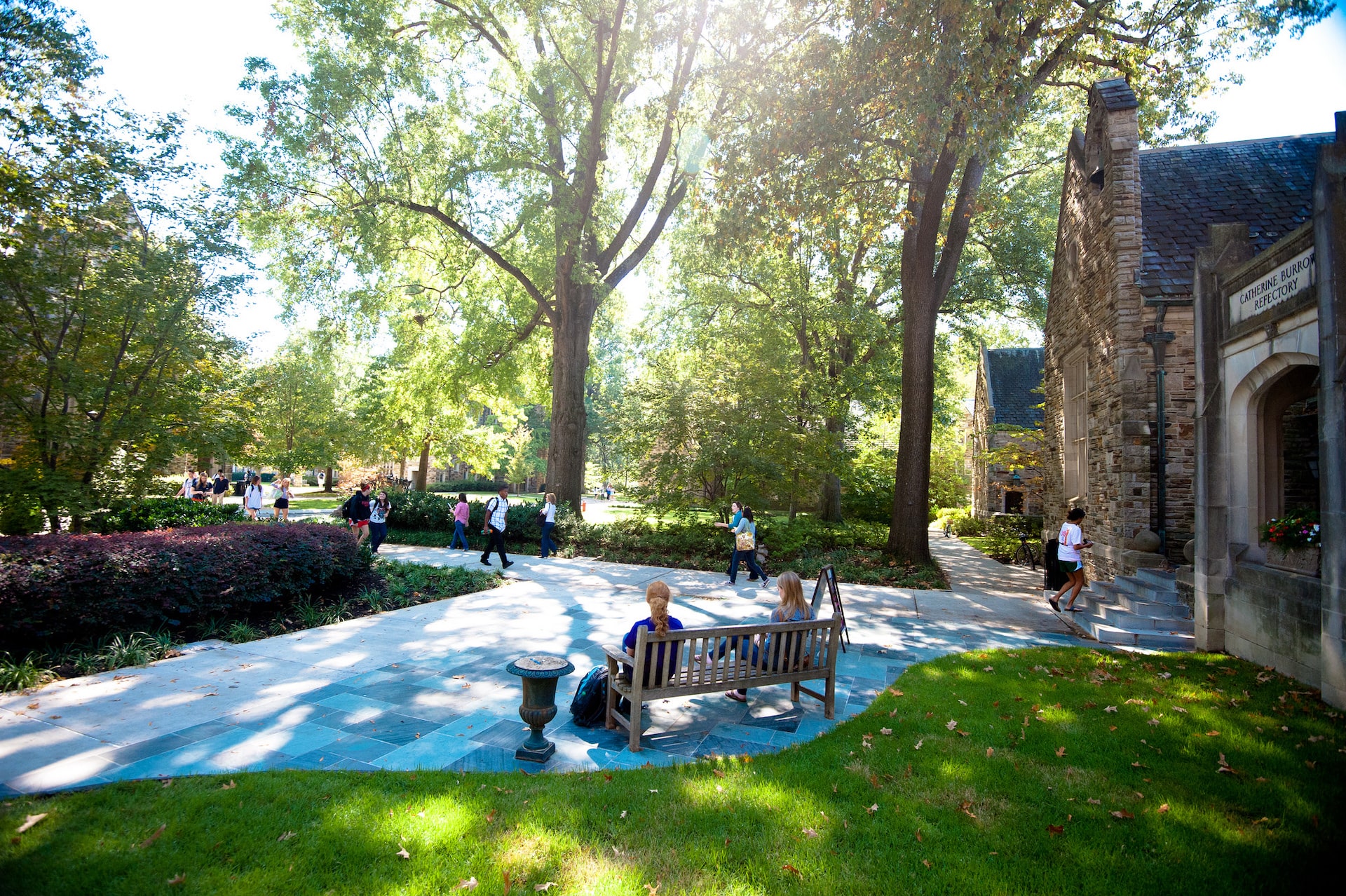 In an effort to provide the greatest access for our prospective students and families while we are practicing remote learning, we are now offering both virtual visits and self-guided tours. Both take place daily. Campus visits take place daily but are limited to very small groups. We look forward to connecting with you very soon.
If you want to know more than our website can provide, sign up here for your chance to meet members of our community! We offer daily visits that include a student-led virtual tour followed by an information session with an admission counselor. In addition to being offered every weekday, these are also available on Tuesday evenings and one Saturday each month.
We are pleased to offer guided on-campus tours to current High School seniors. Your visit will include a tour of campus led by a current student and an information session led by an admission counselor. Rhodes is practicing remote learning this fall, so please note that other options like sitting in on a class will be unavailable. We look forward to hosting you on our beautiful campus!
If you are unable to join one of our guided campus tours, you are welcome ta take a self-guided tour where you can experience our 123-acre beautiful campus on your own schedule. We will provide you with tools to make the most out of your visit and a member of the admission staff will follow up with you shortly after your visit to help with questions. Self-guided tours are available during weekday business hours and for limited hours on weekends.
Attend a Virtual Campus Program
Throughout the academic year, we offer several visit programs that provide prospective students and parents with a thorough introduction to Rhodes and Memphis.
Group visits are offered for high school students on Tuesdays, Wednesdays, or Thursdays, and may include a 30-minute information session and/or an hour-long walking tour of campus. Please start early in your visit planning process by visiting the group visit calendar to check availability.
Senior Overnight Experience
In an effort to protect the health and safety of our students, all senior overnights have been cancelled for the remainder of the 2020-2021 academic year.
The Senior Overnight is for high school seniors who would like to experience Rhodes beyond the normal campus visit. During your stay, you will have the opportunity to explore Rhodes outside the classroom, including eating in the dining hall, staying in a residence hall with a current student, and participating in campus life. Most students like to stay with us the evening before their scheduled campus tour.
High school seniors only
Offered Sunday through Thursday evenings.
Provide 2 weeks notice to ensure accommodations with student host 
Suggest seniors stay with us the evening before their next day's campus tour
You may schedule a Senior Overnight Experience by visiting our campus visit calendar and registering for a weekday campus visit. Please call our campus visit coordinators at 800-844-5969 or email visit@rhodes.edu for additional assistance. 

You will hear from the Rhodes student who will be hosting you about 24 hours in advance of your stay. The host will provide an air mattress, but we recommend that you bring a pillow, sleeping bag and towel. Don't forget to complete the health forms and waiver before you arrive on campus.