My research focuses on investigating regulatory mechanisms of eukaryotic gene expression. Currently, my laboratory is focusing on genes that are involved in fungal cell wall metabolism. The fungal cell wall, which is composed of polysaccharides and glycoproteins, is essential for growth and metabolism of the fungus and is an excellent target for antifungal drugs. We have identified several genes that play specific roles in cell wall metabolism in the filamentous fungus Aspergillus nidulans including genes that have homologues that have been found to be involved in establishing and maintaining cell wall integrity in yeasts and several other previously uncharacterized genes. Experiments are being conducted to investigate the regulation of message production of these genes, to observe the cellular localization of the proteins during different stages of fungal development, and to learn more about the specific role of each of them in cell wall metabolism.
Collaborators
Dr. Darlene Loprete, Chemistry
Dr. Terry Hill, Biology
Current Lab Group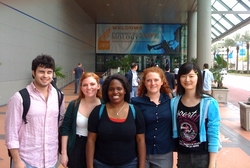 Attending ASBMB 2009: (left to right) John Musgrove, Laura Johnson, Chassidy Groover, Erinn Ogburn, Ke Shang. 
Lab Group Alumnae
Barrie Gordon (Chemistry, 2008)

Michael Lallemand (Chemistry, 2008)

Stuart Martin (Biology, 2008)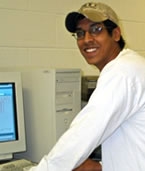 Ravi Patel (BMB, 2008)
Opportunities for research with Dr. Jackson-Hayes
Our work is currently being funded by a grant from the National Science Foundation. Opportunities are available to do research with us during the academic year for course credit and paid positions are available over the summers.