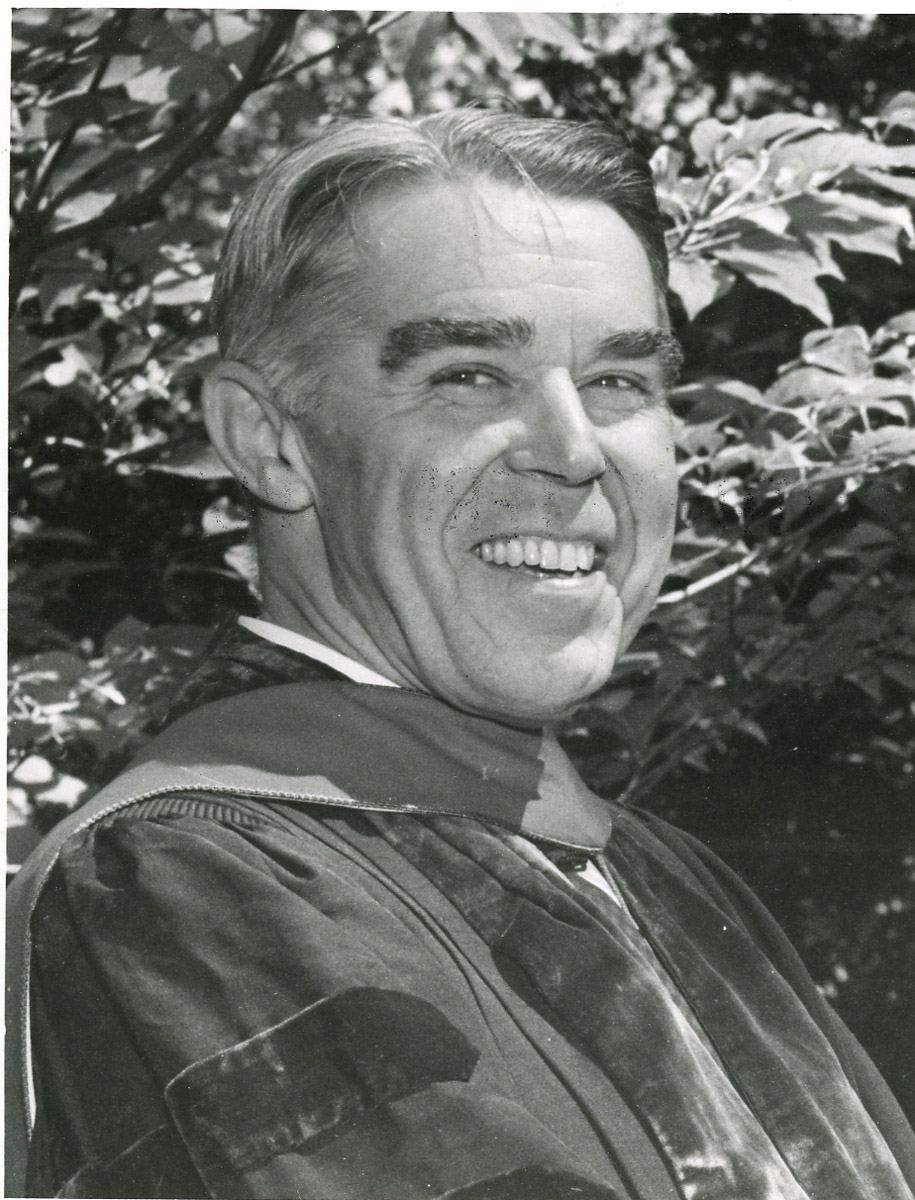 1949 Dr. Peyton Nalle Rhodes becomes President of the College.
Comprehensive exams are required.
Phi Beta Kappa chapter installed.
First freshmen orientation takes place.
1950  First Art courses are offered on campus.   
Office of Development is established.
Pres. Diehl's green hat is used as softball trophy.
1951    January 5 – Groundbreaking for Burrow Library. 
Jessie L. Clough Art Memorial for Teaching is given by Floy K. Hanson.
Dec 15. Homecoming Basketball Game; Football not played because of Korean War.
Lynx Lair relocates from basement to the first floor of Neely Hall.
April  - First Zeta Tau Alpha Talent Night.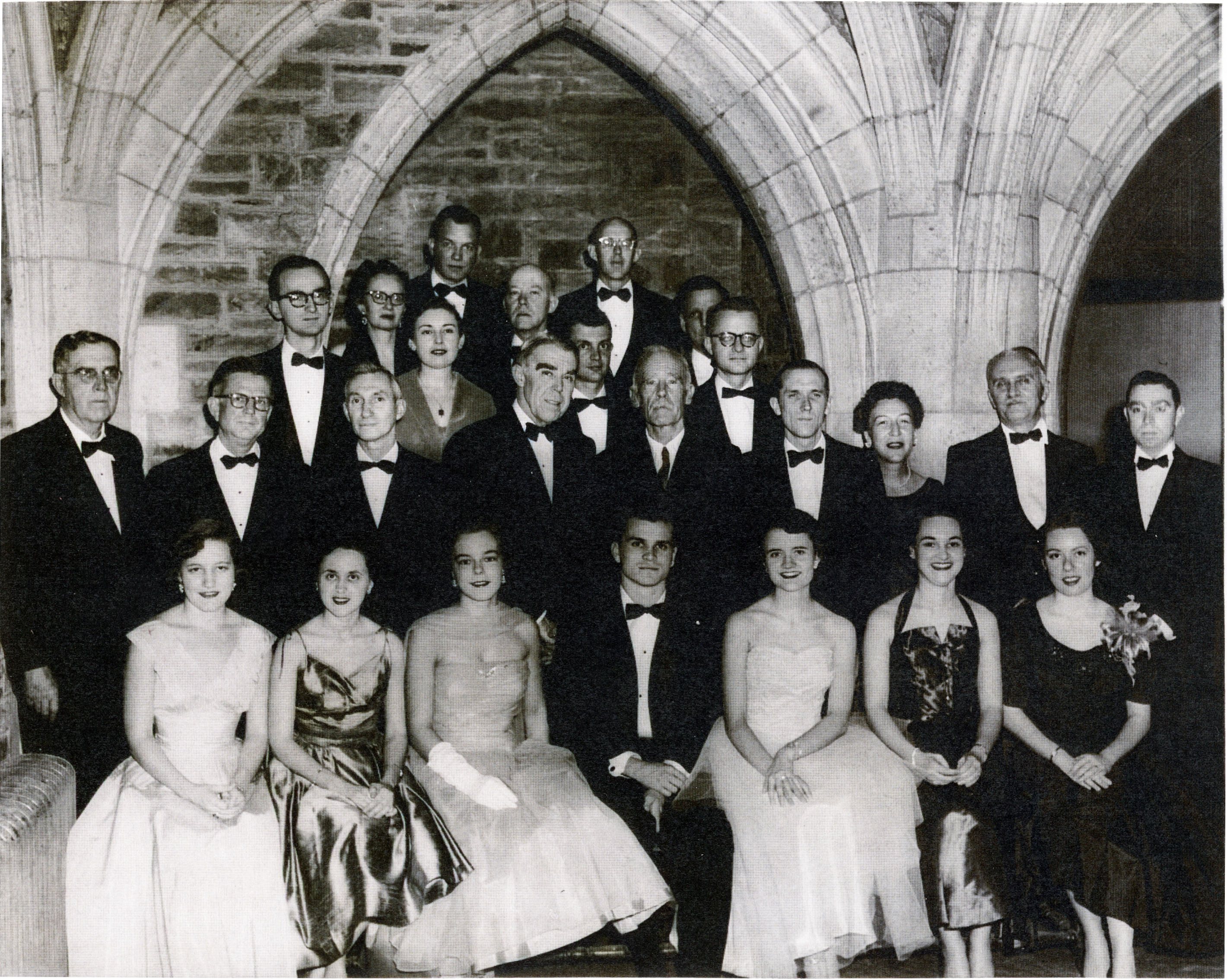 1952       First studio art class offered.
College Day for Prospective Students
 Psi Chi Psychology Honor Society installs chapter
Television in Voorhies Hall a women's residence hall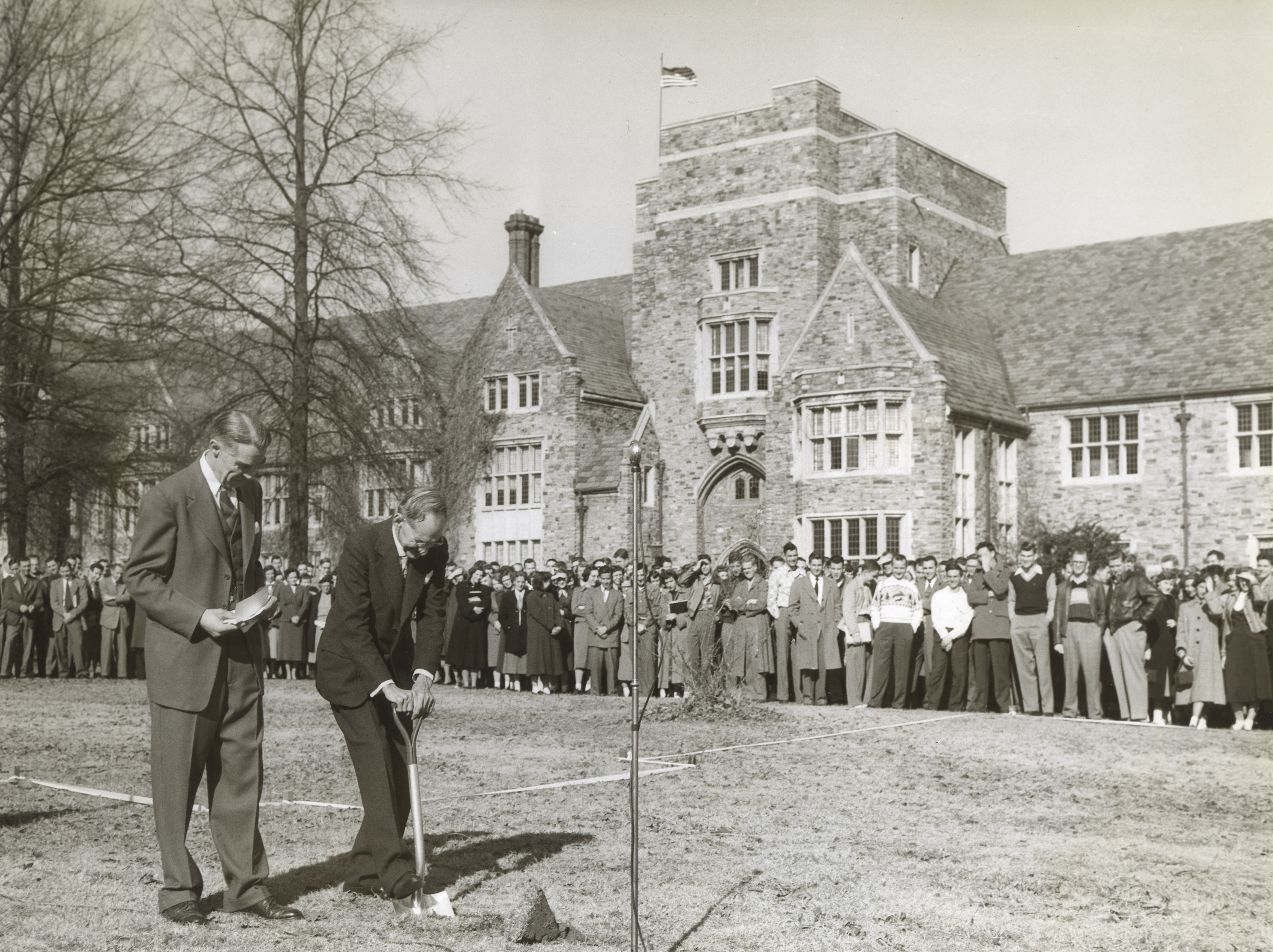 1953       Balcony added to Neely Hall in refectory.
Burrow Library Dedicated.
1954       Singers perform with the Saint Louis Orchestra.
1955       Fargason Fieldhouse demolished.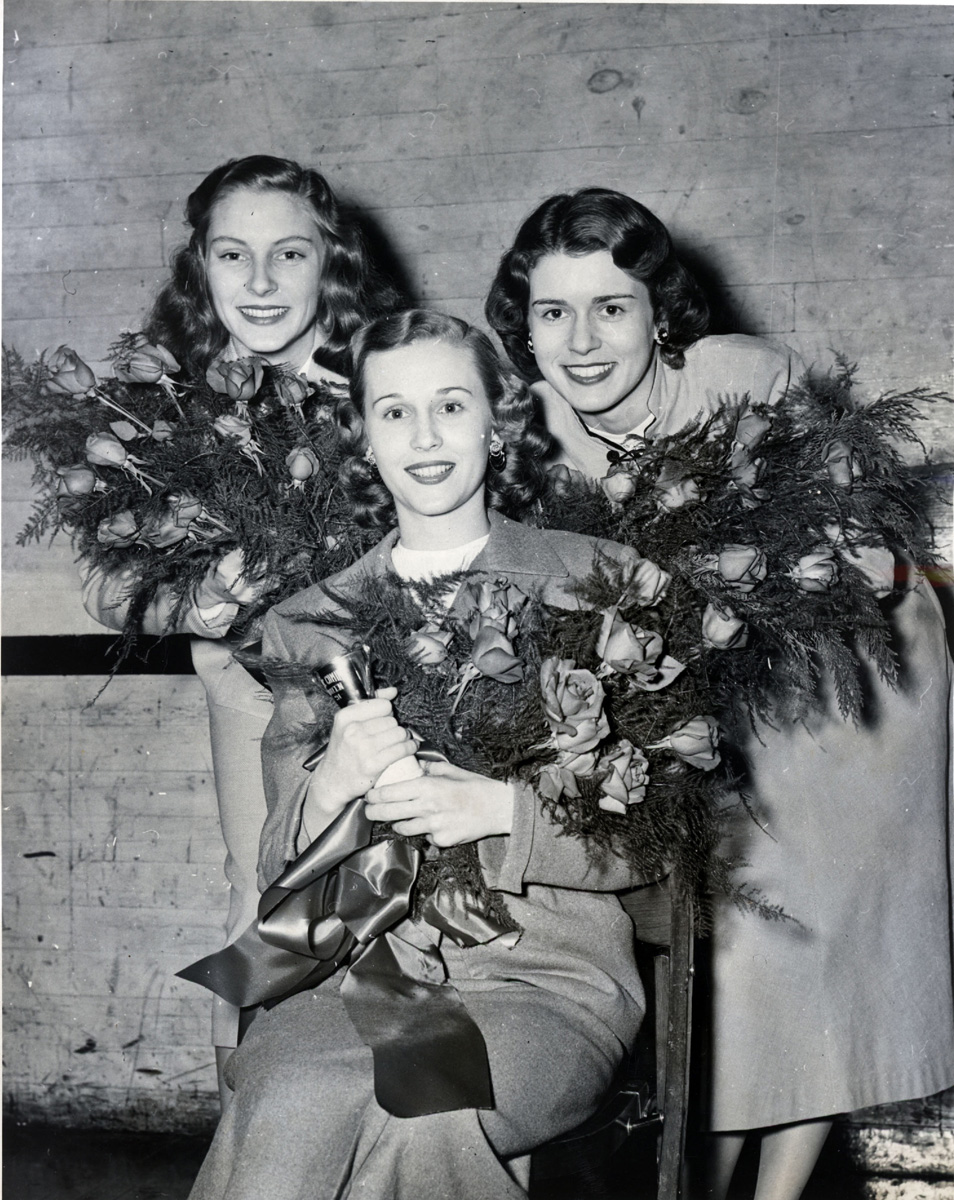 Flagpole gift of Class of 1955.
Grant of $35000 from Carnegie Corp funds International Studies Program.
1956    Fred Pultz is the first director of the Presbyterian Guidance Center which eventually will become the Counseling Center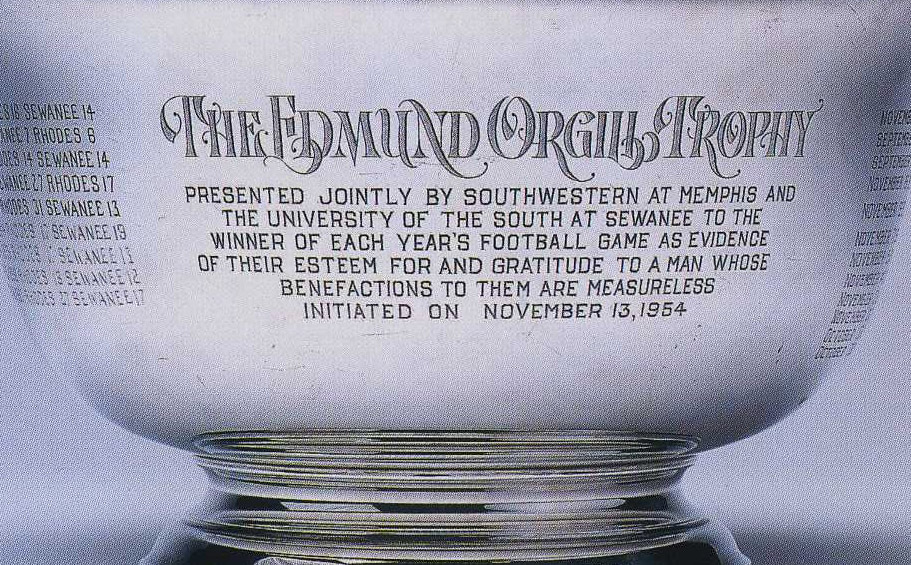 December 18 - Ellett Residence Hall dedicated.
Southwestern wins the Orgill Bowl in the first SAM-Sewanee competition. 
 Southwestern is one of ten liberal arts college to receive a $30,000 grant from The Danforth Foundation of St. Louisto develop among other goals, practical Christian service projects. The Danforth Program for Christian Service is founded and will later become the Kinney Program. 
Dr. M. L. MacQueen '19 becomes the first holder of the E. C. Ellett Chair of Mathematics.
1957       First Parent's Day
 College Board Examination first used for admissions
Third Floor of Palmer air-conditioned and other buildings
Betty Friedan article in Readers Digest on the Inst. of Exec Leadership
1958       Voorhies Hall gets inner spring mattresses
September – Computer used in registration process  SW 9/16
1959       Art major and the I. S. Department are approved
1960       Holly Garden is gift of the Garden Club of Memphis
1961       Bellingrath and Townsend Halls are dedicated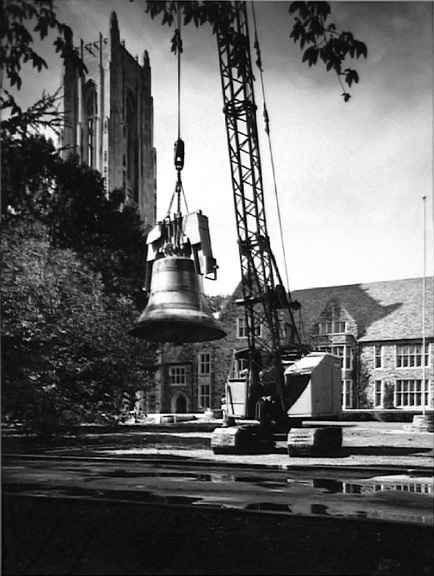 1962       College Athletic Conference chartered  Logo
June 2 - Moore Moore Infirmary dedicated
Gooch Hall erected and dedicated October 22, 1981
October 17 - Richard Halliburton Tower dedicated
1963       April - Sigma Pi Sigma, student chapter of the American Institute of Physics   
Alaska solar eclipse expedition by Physics Department
April 19 - Halliburton Tower bell rings for first time   
October - Wilson O. Forrest, first safety officer, is hired
1964       Day students enrolled without regard to race
First football game on new Fargason field   SAM won 28 to 7 against Centre
Students demonstrate for racial integration in Memphis Presbyterian Churches
February 27 - President Emeritus Charles Edward Diehl dies.                
Board of Directors establishes Sabbatical Leave Program for faculty
Mortar Board installed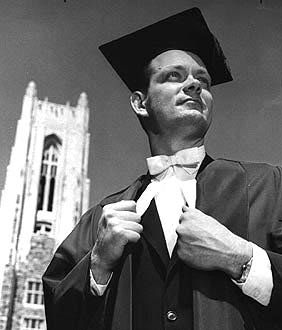 1965       Dr. Peyton N. Rhodes retires
Dr. John David Alexander becomes president.  
May 19 -Halliburton Tower hit by lightning for first time
Mr. and Mrs. Joseph R. Hyde give $125,000 to build a women′s gym
Kappa Delta All Sing tapes aired on 53 radio stations  
Burrow Library gets first photocopier a  Xerox 914
Mastodon unearthed in excavation for Frazier Jelke
1966       May 2 - The Thomas W. Briggs Student Center dedicated. Includes the Language center, bookstore, lounge and office space for student groups
1967       Men win 1966-67 CAC Overall Champions title  (SWN June 1967, p5)
First Briggs Student Center Film Festival
Library of Congress system adopted for Library
An IBM 1620 is the first computer given to college
1968       Pass/fail allowed
Saturday classes dropped
May 2 - Alfred C. Glassell Hall dedicated                
October 19 - Dedication Frazier Jelke Science Center, Kennedy Chemistry Hall, Buckman Library
Library stayed open to midnight for first time
Wearing a coat and tie for dinner rule abolished
1969       S. Dewitt Clough Hall groundbreaking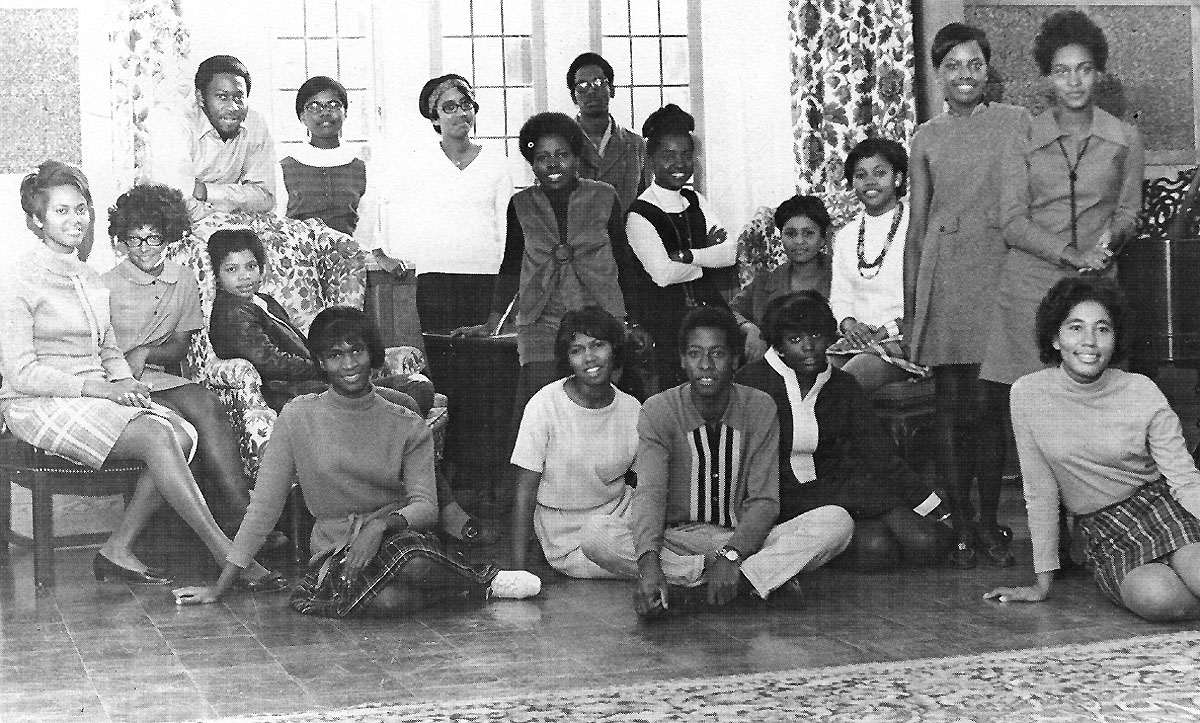 Social Regulations Council formed
Women′s dorm curfew ends
Black Student Association founded. 40th year Celebration in 2009 brought past and present BSA presidents together: Herman Morris '73, Russell Wigginton '88, Bernal Smith'94, Amanda Abrams Johnson '03, first BSA president Julian Bolton '71, Leonard Curry '02, Tevari Burler '08, Cord McLean '09, Simone Simmons '10 and Marissa Scales '11.  1970      
Prof. Yerger Hunt Clifton creates the British Studies at Oxford summer program.
Dr. William Lukens Bowden becomes president. 
College sells Galloway Mansion; music moves to Stewart Hall
1970       October 14 – Clough Hall dedicated.  Contains the Clough Hanson Art Gallery
1971       Men′s soccer team organized
Service learning course initiated by students
Ruth Sherman Hyde Memorial Gymnasium for Women dedicated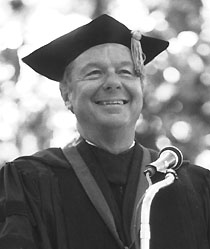 1972       Women′s Varsity Tennis team formed
College radio station, WLYX, first broadcast
1973       Women′s Studies Course taught for first time
Black Studies Course taught for first time
James H. Daughdrill, Jr. inaugurated as the 18th president
1975       Golden Anniversary of opening in Memphis 
Sou′wester publishing halted by College because of "irresponsible journalism"
First annual Whiteball Competition
1976       Frank E. Seidman Distinguished Award in Political Economy
M. L. Seidman Town Hall Lecture Series
Tennis courts restored with a gift from William B. Dunavant, Jr. 
Mortar Board opens membership to men
1977    Dedication of Alburty Swimming Complex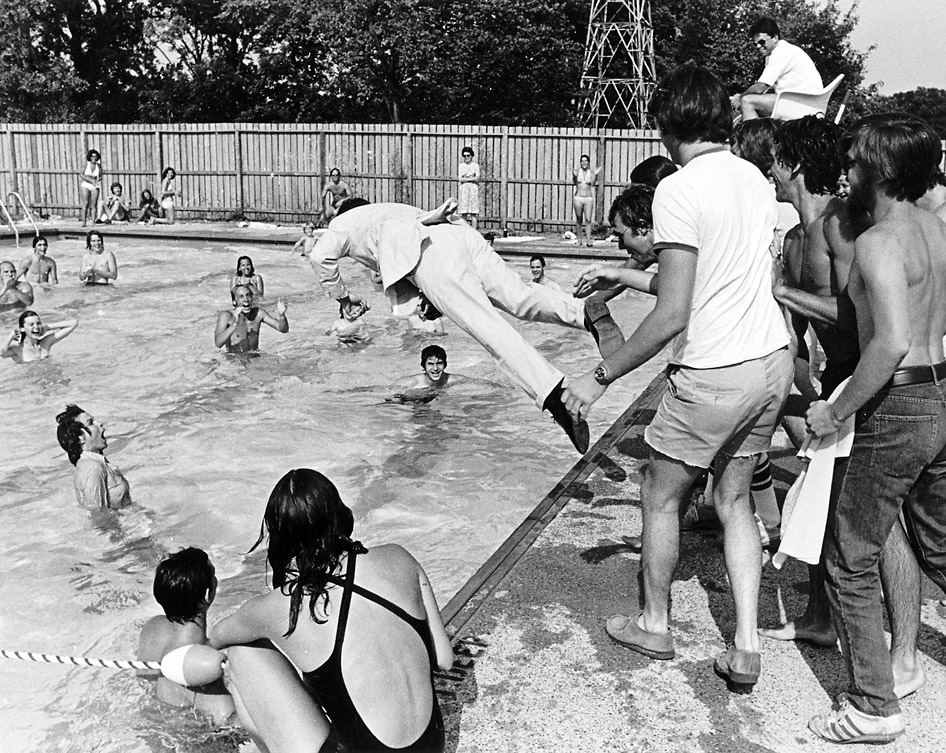 Rare book by Thomas Jefferson found in Burrow Library
Biology Department gets electron microscope.
First prospective students weekend.
Digital computer replaces old IBM.  "DEC PDP 11/70 purchased with $200000 with 18 terminals    placed around the campus for use in teaching, research and management.  "The plan was to interconnect with other college to share information."  Dr. Charles Lemond, '70
1978     Seven buildings named to National Register of Historic Places:  Palmer Hall, Ashner Gateway, Kennedy Hall, Neely Hall and kitchen, Robb Hall, White Hall and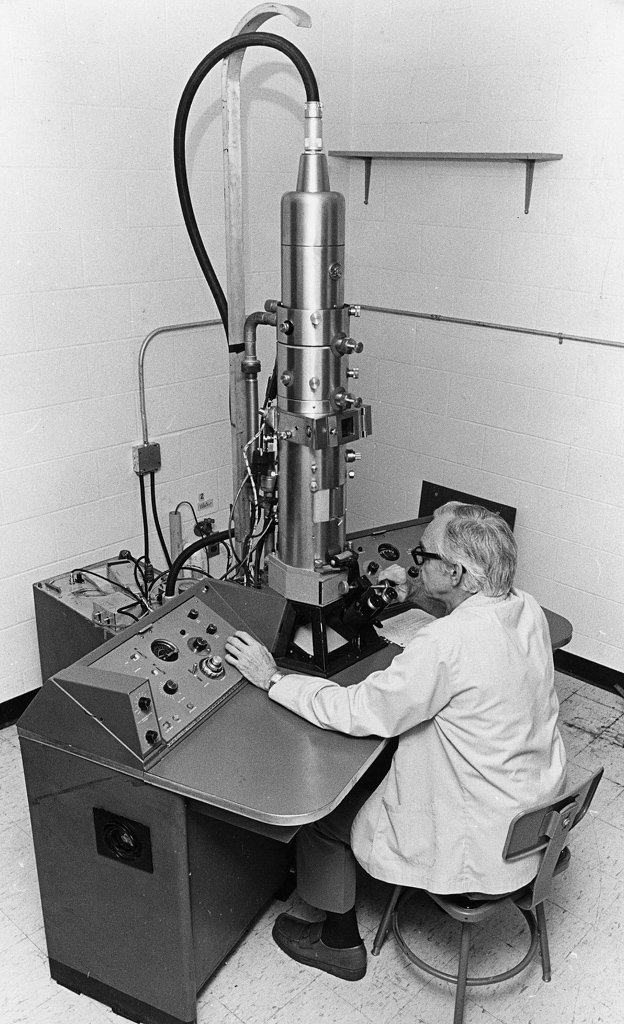 Harris Memorial Lodge
 Women's soccer played as a club sport
 First annual BSA dinner held
Rugby played with a Memphis Club
 Harry B. McCoy Visiting Artists Program begins
April 12, 1978  - First Awards Convocation held
April 25, 1978 – Referendum determined College nickname would  remain "LYNX".
1979   Women compete in first CAC Track meet for women
CAC All-sports trophy award to college
P. K. Seidman selects the College to host the M. L. Seidman Memorial Town Hall lectures
Nov. 1, 1979- Communications Arts Department stages Godspell in the amphitheatre.
1980   April 23  - Anne Marie Caskey Williford Hall dedicated.
Dean of Students Williford, dean died, July 19, 1979 .
First Rites of Spring weekend held.
First Clarence Day Award for Outstanding Teaching awarded to Dr. Jack U. Russell, Mathematics faculty
First Dean′s Award for Research and Creative Activity awarded to Dr. John F. Copper, International Studies
1981       January 21- McCoy Theatre Dedicated  (renovated Zeta house)
Physics building dedicated as Peyton Nalle Rhodes Hall
Gooch Hall dedicated
1982       Groundbreaking for Hassell Hall
Charles E. Diehl Society founded
A grant from the PEW Foundation provides a VAX unit from the Digital Equipment Corporation for the Computer Center.
 Kinney Program merges with Chaplain's office.
1983       First Distinguished Alumni Awards to Lewis Donelson ′38 and Dr. James Gladney ′38
Women′s Soccer becomes a varsity sport  
Lacrosse begins as a club sport 
Diehl Memorial Court with statue dedicated     
Lemaster Gateway Dedicated
Bellingrath, Goodrich, and Hyde Merit Scholarships established.