Seabelo John '19 was a top student throughout grade school in his native home of Kanye, Botswana, in Southern Africa, but making good grades has never been quite enough for the globally conscious business major who says, "We are all privileged in some aspect in our lives, and so we need to use the platforms we have to help our communities and the world at large." 
With the help of the youth engagement manager at the United Nations Foundation, John founded a UN campus chapter— Rhodes GenUN—in 2015 to host service projects and forums as well as lend visibility to the UN's goals and issues. It was in September 2015 that UN countries adopted a set of goals to end poverty, protect the planet and ensure prosperity for all, with each goal having specific targets to be achieved over the next 15 years. 
Also that year, John attended the annual UN-sponsored Millennium Campus Conference at Howard University in Washington, DC, and brought back ideas for the Rhodes chapter. As a result, Rhodes GenUN hosted an international flag ceremony celebrating diversity on campus, and the following year, members began tutoring and mentoring refugees in Memphis through the Refugee Empowerment Program. In October of this year, the group hosted UN speaker Rajita Sanji on campus who spoke on "Global Goals, Local Leaders." 
John, who also is pursuing a minor in urban community health, serves as a 2017 Global Health Fellow for the United Nations Foundation. "As part of that fellowship, I have developed an international youth leadership program at Rhodes that will send about 10 student leaders to the UN headquarters in New York City for the annual United Nations Global Engagement Summit every year," he says. "These student leaders will participate in a forum alongside community leaders, academics, and students from all around the world discussing global issues. The first group will go to the summit in February 2018."
 
In November, John organized a panel of speakers discussing general community health in the Mid-South; global health; and health issues related to gender and sexual orientation, race and ethnicity, and people with disabilities. He also published a guest commentary in the Memphis Daily News asking the question "Should Memphians be concerned about local health care?" John's local concerns are the high numbers in categories of infant mortality, obesity, poverty, and crime. 
"I think people truly do care, but simply do not know about all the issues," he says. "For example, I wish people knew about the wonderful successes of the United Nations, including the increase of 2 percent to 53 percent of Sub-Saharan Africa having protective bed nets and that in the last ten years, polio cases have dropped from 250,000 to only 37 cases, thanks to the efforts of the UN." 
Recently, John and other Rhodes student leaders Jenna Gilley '20, Austin Wall '19, Brandon Johnson '19, and Atticus Wolfe '18 voiced their concerns to Congressman Steve Cohen, who represents the 9th District of Tennessee. "We submitted a healthcare petition urging him to support local minority health care and funding for the United Nations' global campaigns to eradicate polio and malaria." 
John says he hopes to bring more awareness to local and global issues. "Rhodes has student leaders who have the potential to be international leaders, and I want to facilitate that through the support of the United Nations Foundation."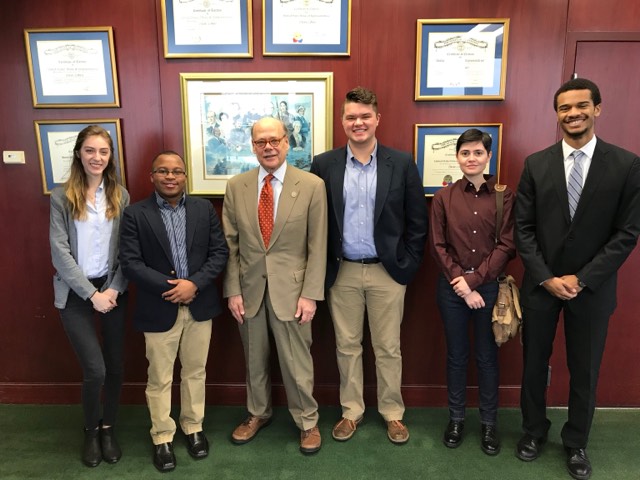 (l-r) Jenna Gilley, Seabelo John, Congressman Steve Cohen, Austin Wall, Atticus Wolfe, Brandon Johnson
By Meg Jerit '20