Twenty-five talented high school students from all over the country staged final mock trials on campus June 25 after participating in Rhodes College's first Mock Trial Academy.
During the weeklong academy held June 19-25, students were taught intensive advocacy training by Rhodes political science faculty, students, and alumni. This also is the 30th anniversary of the mock trial program that has been in eight national championship rounds and won four national championship titles. Anna Smith '02, an attorney who now directs the program, and Prof. Marcus Pohlmann, a Hall of Fame coach and a past president of the American Mock Trial Association, served on the academy's teaching staff.
"We have a couple of primary goals for any mock trial student," says Smith. "From a performance standpoint, we want students to learn how to become comfortable, effective speakers without 'acting' like a lawyer.  There is a lot of overlap between theater and quality trial advocacy, but our best students are the ones who use their own personalities while implementing traditional elements of effective public speaking skills."
Students are expected to learn the theories behind concepts such as the right to confrontation, the right to counsel, and the foundations of evidence. Rather than simply memorizing rules or scripts of questions, students learn how to see the bigger picture of how to construct a case theory, why certain types of evidence are admissible, and what is persuasive to a jury. "When our students compete, we have a reputation for having exceptional objection and legal arguments because they really understand legal analysis," says Smith. "We also place an emphasis on preparation, more than natural talent.  The most gifted performer in the world cannot effectively cross-examine a witness or do a closing argument if they are not prepared."
Participants of the Mock Trial Academy represented states including Tennessee, Utah, California, Minnesota, Kansas, Missouri, Alabama, Louisiana, Connecticut, Texas, Georgia, Kentucky, Indiana, and North Carolina. Some came with aspirations of one day becoming an attorney and others to develop the ability to think on their feet and build their public speaking confidence.
Catie Perkins of Huntsville, AL, had never participated in mock trial, but says she learned so much. "All of the teachers were very encouraging and very intelligent and conversant in everything they taught us."
Kaarish Maniar of Wallingford, CT, on the other hand, started the mock trial team at his high school. "It has been great learning from the best team in the country and from these other students who know exactly what they are doing," he says about the academy. "It's awesome learning rules and procedures from the very best."
Students got a taste of courtroom drama assuming various roles of attorney, plaintiff, defendant, and witness in the Rhodes mock trial courtroom located on the second floor of Buckman Hall. Says Rhodes rising sophomore Daniel Elliott, who served as the academy's assistant director and teaching assistant, "They used the courtroom to practice and scrimmage in preparation for their final trials. They really enjoyed the replica courtroom, which is something few colleges have, let alone high schools. When they take the skills they've learned back to high school, they will be more educated in legal studies and advocacy, more prepared to give public speeches and impromptu arguments, and overall more experienced in mock trial."
Elliott joined the mock trial program in the fall of his first year at Rhodes. "When I began competing, I was a witness for the A team, and by the end of the year, I was a double-sided attorney giving the opening statement for the A team at the National Championship Tournament."
Rhodes alumni Dane Wendell '06 and Amelia Yeomelakis'15, both All American mock trialers, also taught during the academy as well as served as judges during practices. Prof. Pohlmann and alumni Ben Morell '12, Mathew Jehl '13, Jared Blanton '13 were judges for the final trials on the last day of the academy, which was open to parents and friends. The case—from the 2016 Nationals case from the American Mock Trial Association—involved the death of an undercover police officer who was killed in the line of duty. The defendant was a college student who was being investigated by the officer for her participation in an organized drug ring.
The final trials ended with an awards ceremony and participants earning an Academy Certificate of Completion. Students who received an Academy Certificate of Completion and who attend Rhodes in the fall 2016 or fall 2017 will be exempt from the requirement to take POLS Trial Procedures in order to try out for the mock trial team.
Rhodes' first Mock Trial Academy proved to be a success, showcasing the campus and building interest in the mock trial program. Smith says she came up with the idea of an academy after having the experience of teaching courses at a summer camp for gifted students. "I saw firsthand how students with a passion for law, but perhaps who didn't have the chance to participate in mock trial or law classes at their own high schools, fell in love with this activity. Given the success of our program, it seemed like a natural fit to create an opportunity for students to come here and learn what we have learned over the past 30 years of mock trial competition."
For advice on how to develop the academy, Smith reached out to Prof. Rebecca Finlayson, who has directed Rhodes' successful Summer Writing Institute for several years. But Smith adds, "It really is the product of the efforts of so many people. These are people who have a passion and respect for legal education and the mock trial program, which is consistent with the enormous support the campus has given us for the last 30 years."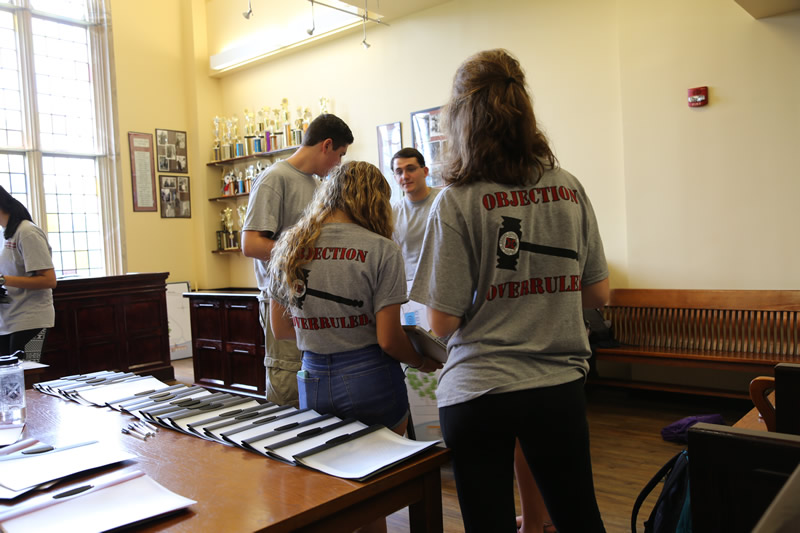 students discussing their case during a mock trial practice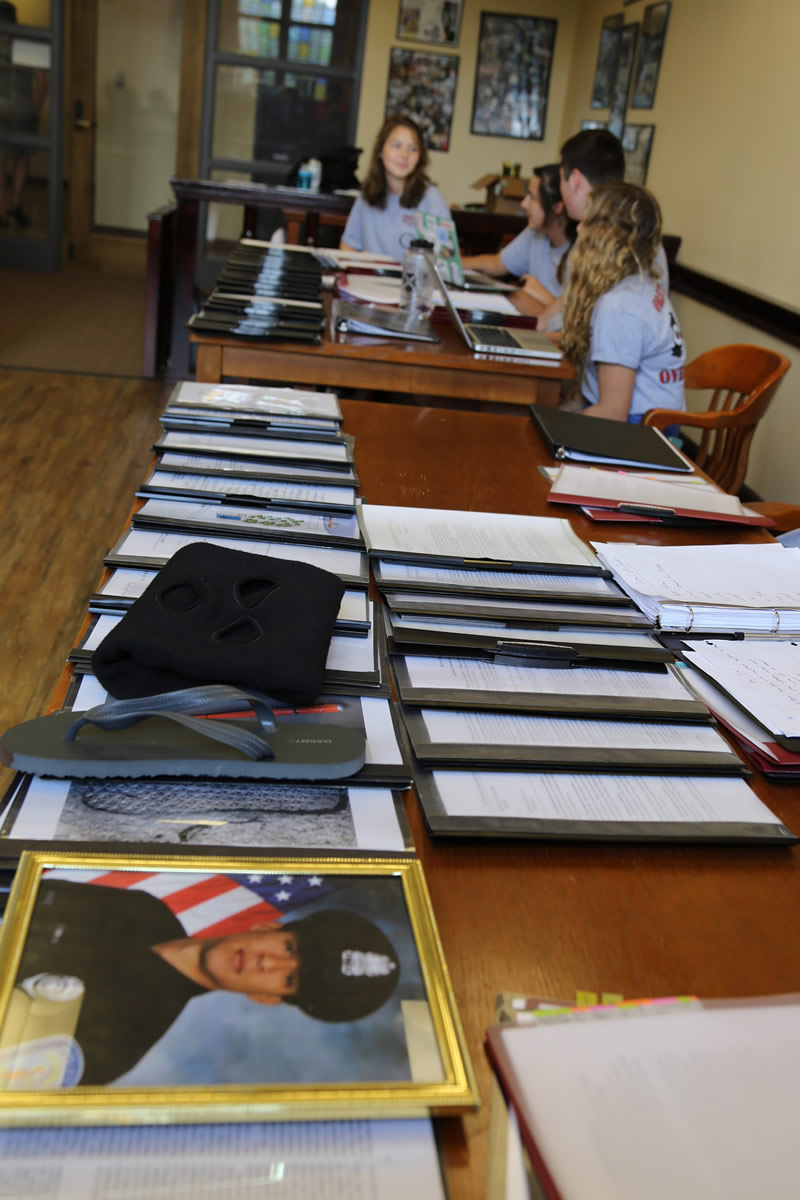 courtroom table lined with evidence critical to the case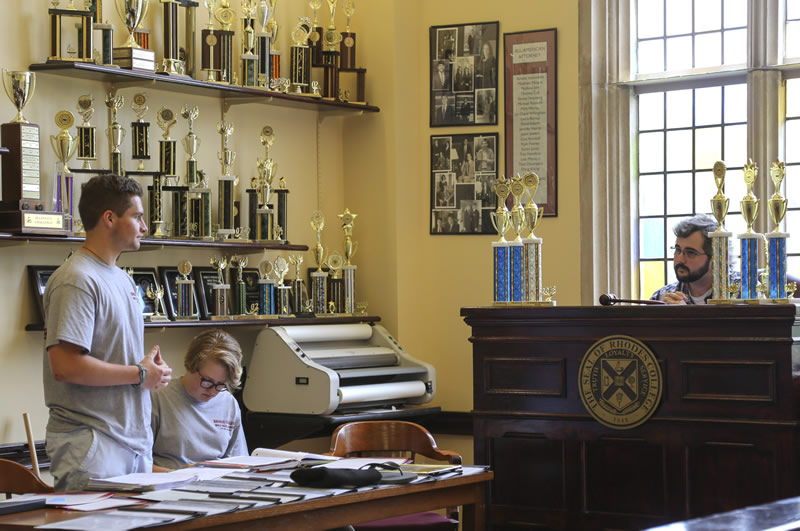 Dane Wendell '06 serving as judge and listening to Max Klapow  of Indian Spring, AL,  as he plays the role of prosecuting attorney