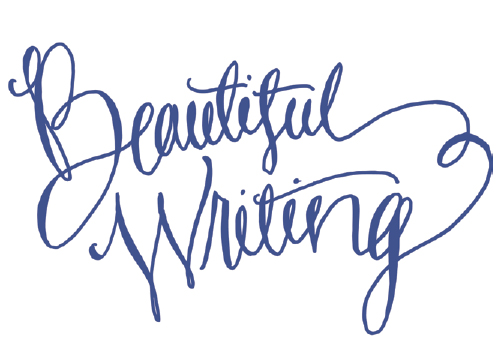 Essays, lab reports, compositions, journals, research papers, short stories—these are the types of writing assignments high school students must produce. But the words they choose and the way to express them on the page don't always come that easy.
Now, thanks to a partnership between Rhodes and area Memphis high schools, secondary school students are being armed with the skills needed not only to develop good writing techniques, but to teach them to their peers as well. 
The partnership stems from a Rhodes' Department of English course called How to Write: Academic Writing and the Pedagogies that Support It, taught by Dr. Rebecca Finlayson, associate professor of English and director of the Rhodes Writing Center. Finlayson says the course began 15 years ago as a one-credit, upper-level theory course for Rhodes' Writing Center fellows, who assist other Rhodes students with first-year writing seminars. But Finlayson had bigger ideas.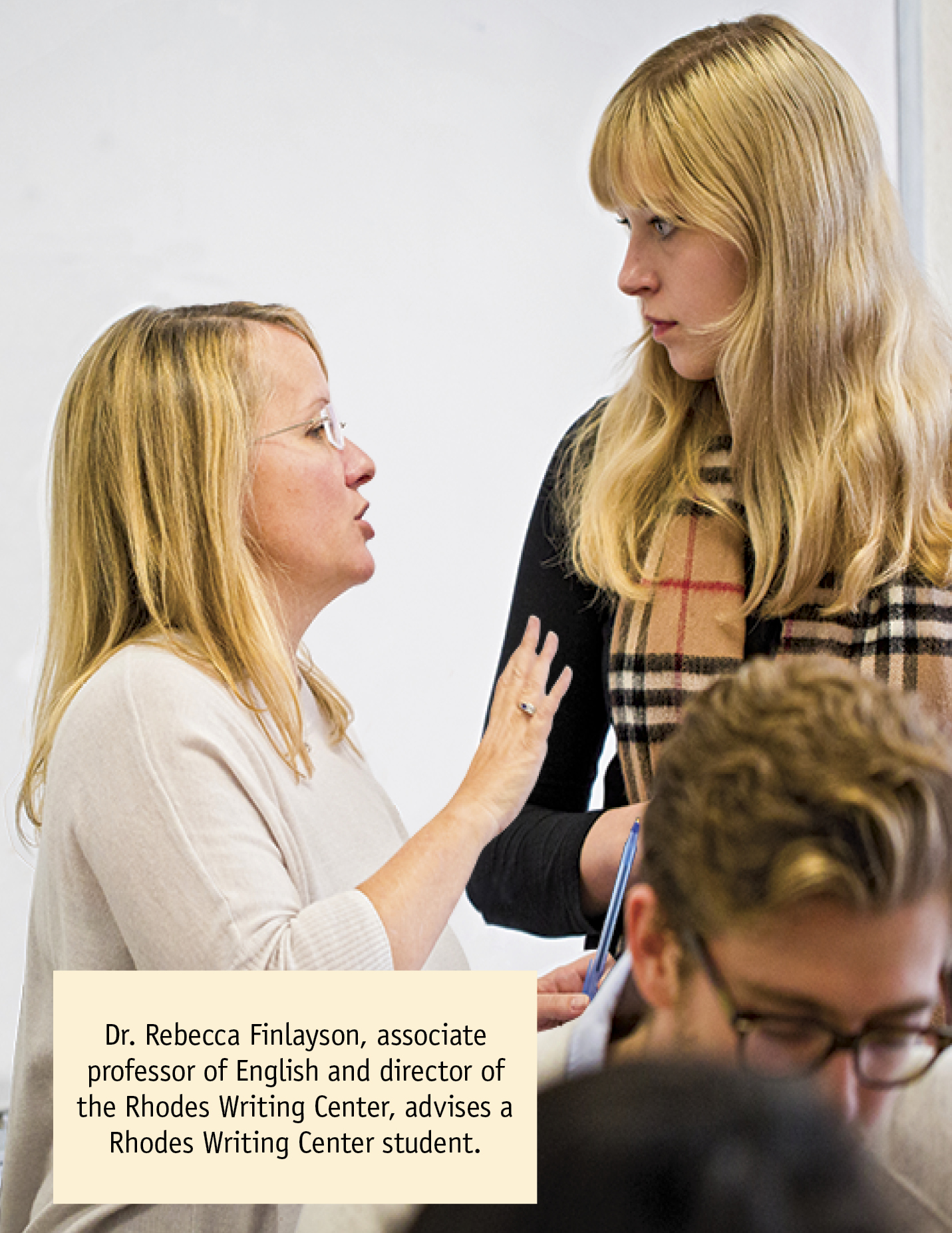 She wanted to expand the course. "As I began thinking about what this class would look like for a general population of students, I decided we needed to partner with some high schools and help them set up writing centers within their own campuses," she says.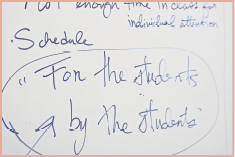 Finlayson submitted a grant proposal to the college's Hill Fund for Curricular Development and Pedagogical Innovation. Proposals approved by the Hill Fund often enhance interdisciplinary work on campus. In spring 2015, Finlayson formed trial partnerships with three Memphis schools—Wooddale High, Soulsville Charter School, and Central High. Central High is in the Rhodes Learning Corridor, a cohort of schools in neighborhoods adjacent to the Rhodes campus, which made it a natural fit for the partnership. The other two schools were selected because Finlayson's former writing fellows Michelle Hope '06 (Wooddale) and Bryan Hearn '09 (Soulsville) were teaching there.
The results? Satellite centers of high-energy peer learning address a skill that is undeniably life changing: the ability to write.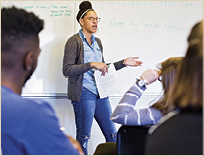 Grammarians in the Making
In the familiar bustle of a high school corridor, some students rush to their next class, others to a busy lunchroom. Still other students sit in the school's writing center, eagerly waiting to meet one-on-one with their peer tutors. Some may need advice on sharpening a thesis statement. Some may need help organizing the introductory paragraph of a biology lab report. Some may want help revising assignments, citing references, or building on ideas. 
At Soulsville, the center uses a small reading classroom, where the walls are covered with encouraging messages and there are small clusters of desks for groups. "It's set up in such a way that students feel really comfortable working with their peers on writing," says Hearn, who has taught 10th-grade English and is high school dean of curriculum and instruction. "Going in there is one of the most uplifting moments for me, because I can see the students have a light bulb go off, and they often are able to explain a writing concept better than many adults." 
"What I love most about the Soulsville Writing Center is the fact that not only do students improve their writing skills, but also they can bond with peers from different grades and create healthy friendships," says 11th-grader Kylee Richard. "From being a tutor in the writing center, I've learned that nothing is wrong with asking for help. It's such a supportive place. What makes writing so powerful is that our own distinct voices and thoughts come through when we write. That is also what makes writing so unique and fun."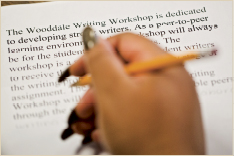 Amber Dean, a 12th-grade tutor at Soulsville, says, "I have learned that no one is born great at writing, but receiving outside ideas and critiques allows you to develop your own ideas and create a piece of strong writing."
At Wooddale, Hope says her students took ownership in the center's value and realized that writing will benefit them beyond high school. "Our goal has been to create better writers, not just better papers. We want to create a writing culture," says Hope, who is a National Board Certified Teacher for English Literature and has taught all levels of English. 
What Goes 'Round
Not surprisingly, area high schoolers have not been the sole beneficiaries of the partnership. The road to becoming a peer tutor at any of the three high schools involves significant training by Rhodes students. Those enrolled in Finlayson's class were divided into teams that met with AP English students at each partner high school several times during the Fall 2015 semester. Together, they worked on basic writing skills, and the future peer tutors trained on how to do their jobs. To date, Rhodes students have worked with about 100 students altogether at the three partner schools, who have also come to the campus for training sessions and guest lectures. 
"Just being able to be there as a mentor for a group of students who needed one made the most impact on me," says Avery Blankenship '18, who worked with students at Central High. "By the time our program came to an end, several students had reached out to me about college and applications and the like. It was incredibly heartwarming to be able to offer any kind of help to my students."
In addition, during their work with the program, Rhodes mentors have been exposed to readings, presentations, teaching demonstrations, and guest lectures from various academic departments on campus, including urban studies and psychology. Clearly, however, it's their time working with the high schools and the students there that have left an indelible mark.
"The students went from being a little skeptical about the writing center to being completely onboard and involved in a relatively short amount of time. It was incredible watching them put work into something that was once such a small idea—watching it flourish and grow," says Blankenship.
—Lizzie Choy '17
—Title calligraphy by Sarah Baumann '16