Venue
Room Number
Hardie Auditorium
Contact
Prof. Mark Muesse
Email
Keynote Speaker: Dr. Jon Kabat-Zinn is the founder of the Mindfulness-Based Stress Reduction Program at the University of Massachusetts Medical School and author of pioneering works on mindfulness and compassion training.
Please join us for a day-long symposium on compassionate practices in higher education bringing together faculty, administrators, students, and thinkers from around the nation to share and discuss best practices for fostering compassionate campuses. Participants will have the opportunity to learn more about ways to make colleges and universities more hospitable and welcoming environments and to cultivate techniques of personal and institutional flourishing.
This symposium is free and open to the public. Please register to attend:
https://www.rhodes.edu/content/compassionate-campus-initiative-rhodes-co...
For more information, visit http://www.rhodes.edu/content/compassionate-campus-initiative-rhodes-col...
or email Prof. Mark W. Muesse at muesse@rhodes.edu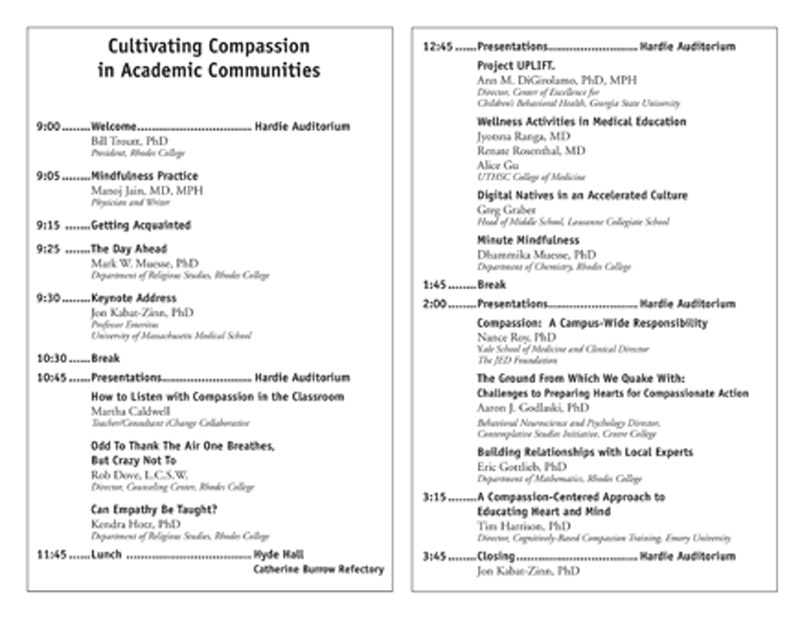 Sponsored by the Rhodes Compassionate Campus Initiative
and Advancing Mindfulness, LLC.
Cultivating Compassion
in Academic Communities