Memphis is a city of striking combinations and boundless creativity, a place where passion, ideals, cultures, and opportunity converge in authentic ways. It's these unexpected combinations that empower individuals to make their mark and create their own one-of-a-kind experiences for a better life and better world.
The city is filled with unexpected fusions: global commerce and local start-ups, high culture and outdoor adventure, soul food and haute cuisine, world-class infrastructure and spectacular green- and blue-ways, rich heritage and forward thinking, and, of course, all the many forms of music born and still being recorded here, which create a wholly original Memphis sound.
Memphis Minded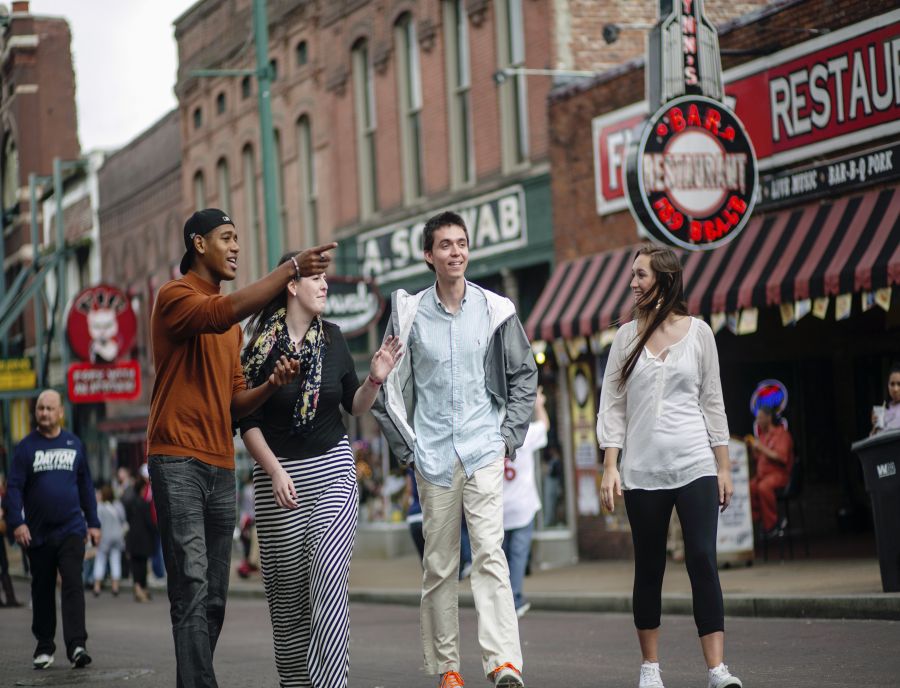 When Rhodes College moved from Clarksville, Tennessee, to Memphis in 1925 under the leadership of President Charles E. Diehl, it was, Diehl said at the time, "the chance of a lifetime" to re-create an institution of excellence in a central location that provides easy access to students from all over, along with greater opportunities for them to learn both inside and outside the classroom.
Today, Dr. Diehl's vision is being fully realized, as Rhodes students—who currently represent 45 states and 35 countries—are contributing to the Memphis community in immeasurable ways by fully engaging with the city's culture, people, and causes. 
What follows is an overview of how the college, its students, faculty, staff, and alumni, work within the community, and how the philosophy and theory from textbooks and classroom lectures seep from the campus into the surrounding neighborhoods, throughout the city, and across the region.
Serving the Community
More than 80 percent of Rhodes students are involved in volunteerism throughout the Memphis community, and the college was ranked #1 on Newsweek's "Most Service-Oriented" list of colleges for two years in a row. The Laurence F. Kinney Program oversees Rhodes' campus-wide effort to engage all students in service and social action in Memphis and the broader community. And the college's Bonner Center for Faith and Service partners with more than 100 non-profit and governmental agencies in the greater Memphis area to provide in-depth service experiences for our students.
Conducting Groundbreaking Research
Because Rhodes is one of only a handful of national liberal arts colleges located in a major metropolitan area, students have the opportunity to participate in the kind of Ph.D.-level research projects that typically can only be found at the country's top graduate programs. Even more beneficial to Memphis is the fact that our students participate in research that has a direct impact on the health and well being of the city.
Connecting Students with the City's Top Institutions and Businesses
Each year, 75 percent of Rhodes students complete internships and fellowships throughout Memphis, and the college considers the city a laboratory for learning. In addition, our students contribute their talents and passions to many non-profits that are understaffed and have limited resources, helping these organizations maximize their impact on the community.
Preserving and Promoting the City's Rich History and Culture
At Rhodes, faculty and students have built a community of engaged scholars who are researching and promoting the human experience of Memphis and the Mid-South region, from the Civil War to the civil rights movement and beyond. The college's Memphis Center, which was established in 2012, serves as an umbrella for these efforts.
Adding Talent to Our City
There are more than 3,500 Rhodes alumni living and working in Memphis. Over the past three years, more than 40 percent of our graduates have chosen to remain in the city after graduation to start their careers and commit their talents and passions to help make Memphis an even greater place.
Enriching Our Quality of Life
From opening new restaurants and retail establishments, to producing and promoting world-class music, literature, and art, to leading the push to install bike lanes throughout the city, members of the Rhodes community have made considerable contributions to the cultural fabric of Memphis.