Under the Memphis Center, check out the new arts fellowship: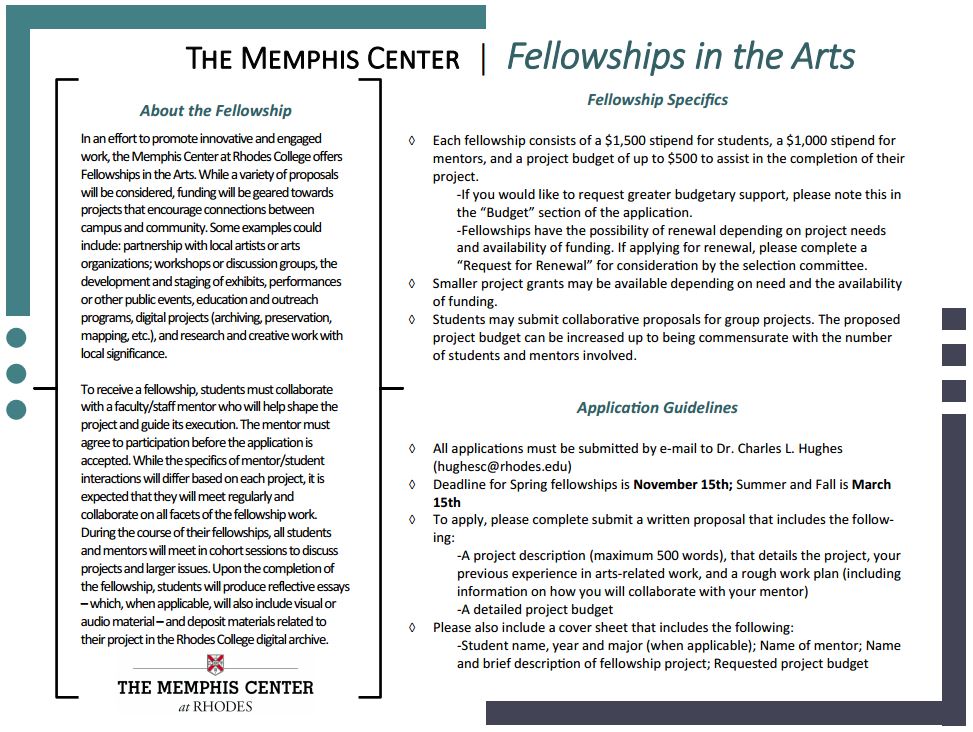 Center for Outreach in the Development of the Arts
CODA (The Center for Outreach in the Development of the Arts) promotes leadership to expand the impact of the arts in the lives of members of the Rhodes community, Memphis, and beyond through innovative thinking.
Supported by the generous grant from the Robert and Rudy Priddy Charitable Trust of Wichita Falls, Texas, CODA Fellows and Rhodes students, faculty, and staff strive to increase engagement in the arts and for everyone to come into contact with the arts and its enrichment.
CODA works with Rhodes College faculty and student groups to integrate the arts into the broader curriculum, enhance the college′s fine arts programs, create a rich arts environment on campus and in the community, and challenge all Rhodes students to view themselves as potential leaders in the arts.
Charles Hughes provides leadership, outreach, and development for CODA as well as support and guidance for the talented CODA Fellows.
CODA $5 Tickets - The cheapest date in town!
CODA at Rhodes purchases tickets to arts events and sells them to students, faculty and staff for $5--a savings of up to $70 versus individual ticket prices. Tickets are always available to students for several days before they are available to faculty and staff. The online reservation link for tickets is available at 11AM, the Thursday prior to the week of the performance. All scheduling and ticket information is available on the CODA Facebook page.
Past events have included:
Les Miserables at The Orpheum Theatre
MacBeth at Shelby Farms
The Nutcracker by Ballet Memphis at The Orpheum Theatre
Dirty Dancing at The Orpheum Theatre
Compania Flamenca Jose Porcel at Germantown Performing Arts Center
Memphis: The Musical at The Orpheum Theatre
The Bluest Eye at Hattiloo Theatre
Don Giovanni by the Metropolitan Opera broadcast live in HD at The Paradiso Theatre
2B Loved by Ballet Memphis at Playhouse on the Square
Tosca by Opera Memphis at The Orpheum Theatre
Satyagraha by the Metropolitan Opera broadcast live in HD at The Paradiso Theatre