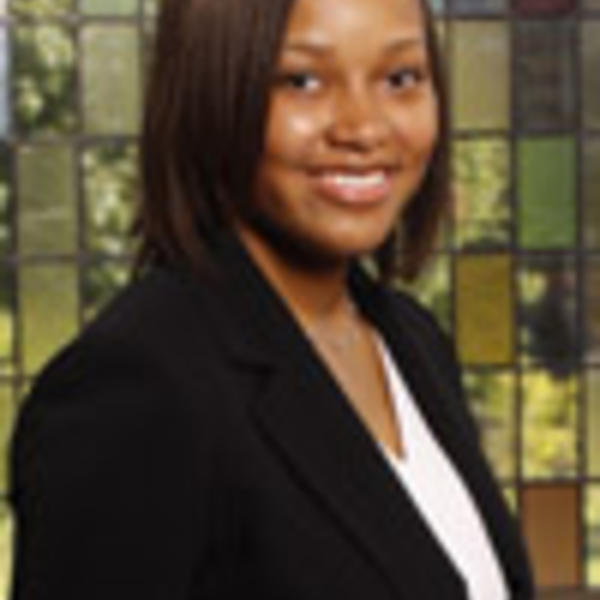 Teneice Stegall
Associate Director of Admission
(901) 843-3706
The saying may be "you can never go home again," but Teneice Stegall has happily found the opposite to be true. After moving to Memphis as a child, Teneice never imagined staying in the area for college. A visit to Rhodes, however, changed her perspective. "I loved having the chance to live close to home, without feeling like I was too close. Rhodes provided me the opportunity to make Memphis my own—I got to live in a different Memphis as a Rhodes student than I ever did as a teenager. She majored in religious studies with a minor in African American studies. As a student, Teneice was heavily involved with campus organizations such as the Black Student Association (BSA) and the Hispanic Organization for Language and Activities (HOLA). She was also a part of Lipstick On Your Collar, the female a cappella groups on campus, all while managing the on-campus coffee shop the Middle Ground . It was an internship in the Rhodes Office of Admission, however, that struck a chord with Teneice; upon her graduation in 2009, Teneice joined the Rhodes Admission staff as an Assistant Director of Admission, where she was responsible for working with multicultural students, as well as students from Illinois.
After serving two years in the Office of Admission, Teneice decided to pursue her Master of Theological Studies at Vanderbilt University, all while continuing her career in their Office of Undergraduate Admission. "My graduate coursework is a huge complement to my admission work, as the content has aided in my ability to listen effectively, understand the needs of students, and help them find solutions and opportunities that align with their best interests and maximum potential for wholeness." Following her graduation and a year as a college counselor in a local charter school, Teneice could not be more thrilled to return to Rhodes, though in a new role as an Associate Director of Admission.
The best part of being back in Memphis for Teneice? "It's a tie between the music and the food! I love to explore restaurants in midtown and downtown. Soul Fish Café is one of my favorites, so is the Cheesecake Corner downtown. I spent most of my childhood in the suburbs of Memphis, so now I relish spending most of my time in the heart of the city." On the weekends, Teneice likes to check out local bands, sing with Lipstick alumnae, and play an occasional game of pickup soccer.
Territory
Illinois, Iowa, Michigan, Minnesota, West Tennessee Public Schools, and Wisconsin
Multicultural Recruitment